Welcome back to my project of slowly reviewing all the coffee and cakes in Tallinn with my friend Kid, this week: a quiet spot in Kadriorg!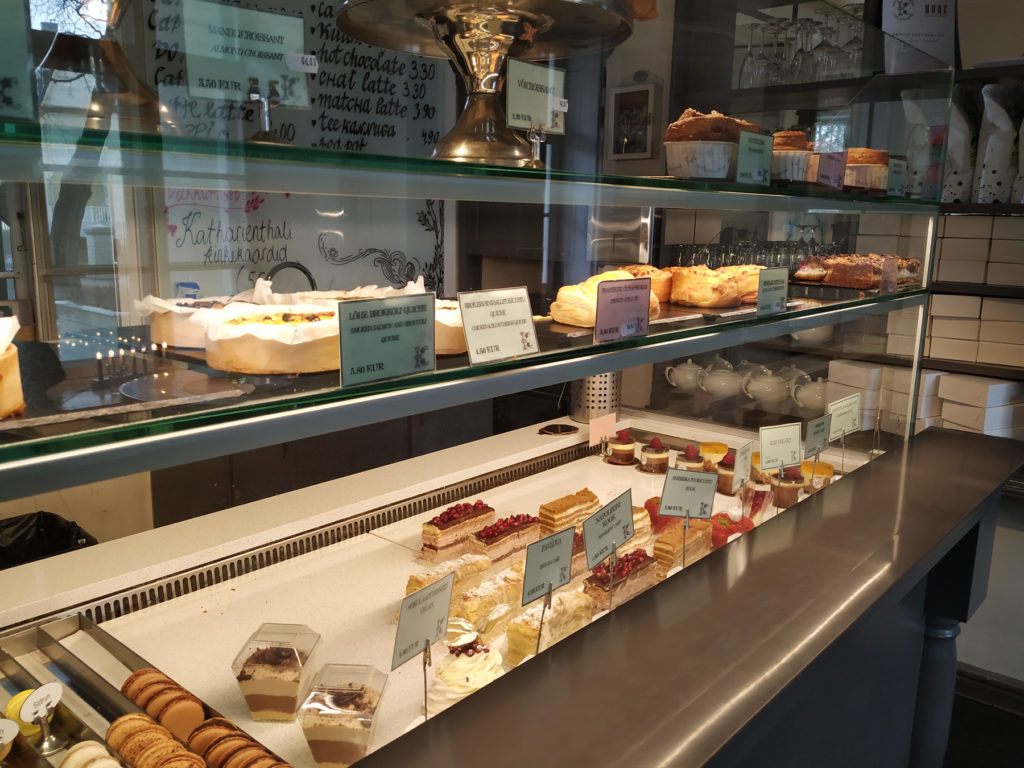 Address: A. Weizenbergi 22, 10150 Tallinn
Date of visit: March 5, 2020
Drinks: Cappuccino (Kid) and Chai Latte (Mab)
Cakes: Red Velvet Cake and Cardamom Roll (Kid) and 3 Chocolate Cake (Mab)
Review: Obviously this series is going to have to take a pause due to COVID-19 but let's all live vicariously through cake that I ate in the past.
Katharinenthal is located inside of Kadriorg, right at the edge of Kadriorg Park. This is an easy to reach from the city center because you simply take the 1 or 3 tram to the Kadriorg stop and you're practically on top of the cafe. You can take a number of buses to the J.Poska stop and walk a few blocks over as well if you're not a tram fan or you're coming from places outside of the city center.
Katharinenthal is a restaurant, cafe, and bakery all rolled into one in a lovely house-like building which has seating inside in a small intimate front of the house, a dining room like space as well as outdoor seating when the weather is good. It was raining (of course) so we sat in the front room.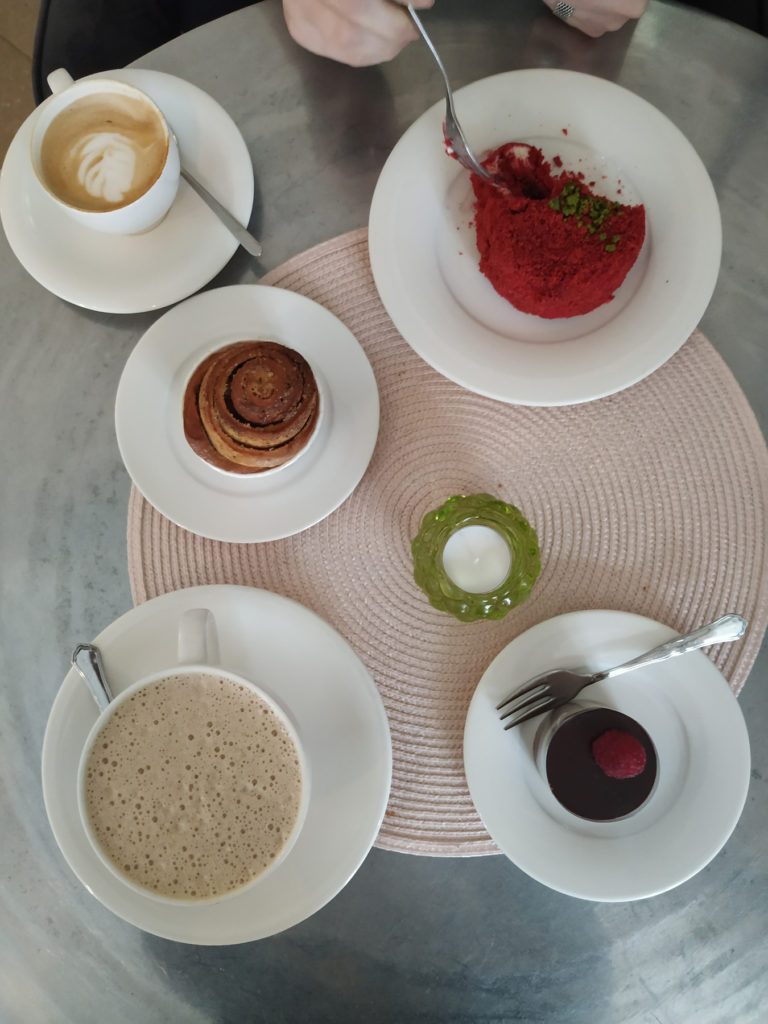 I wouldn't call the cafe space particularly nice or cozy. The seats aren't exactly comfortable and despite my small stature I did feel a little squished in the space. If there had been more than 1-2 other sets of people I probably would have genuinely felt closed in on all sides.
They have a really lovely selection of quite fancy looking cakes, they offer all the usual drinks, and have a nice assortment of ready made savory items as well (they quiches all looked really good).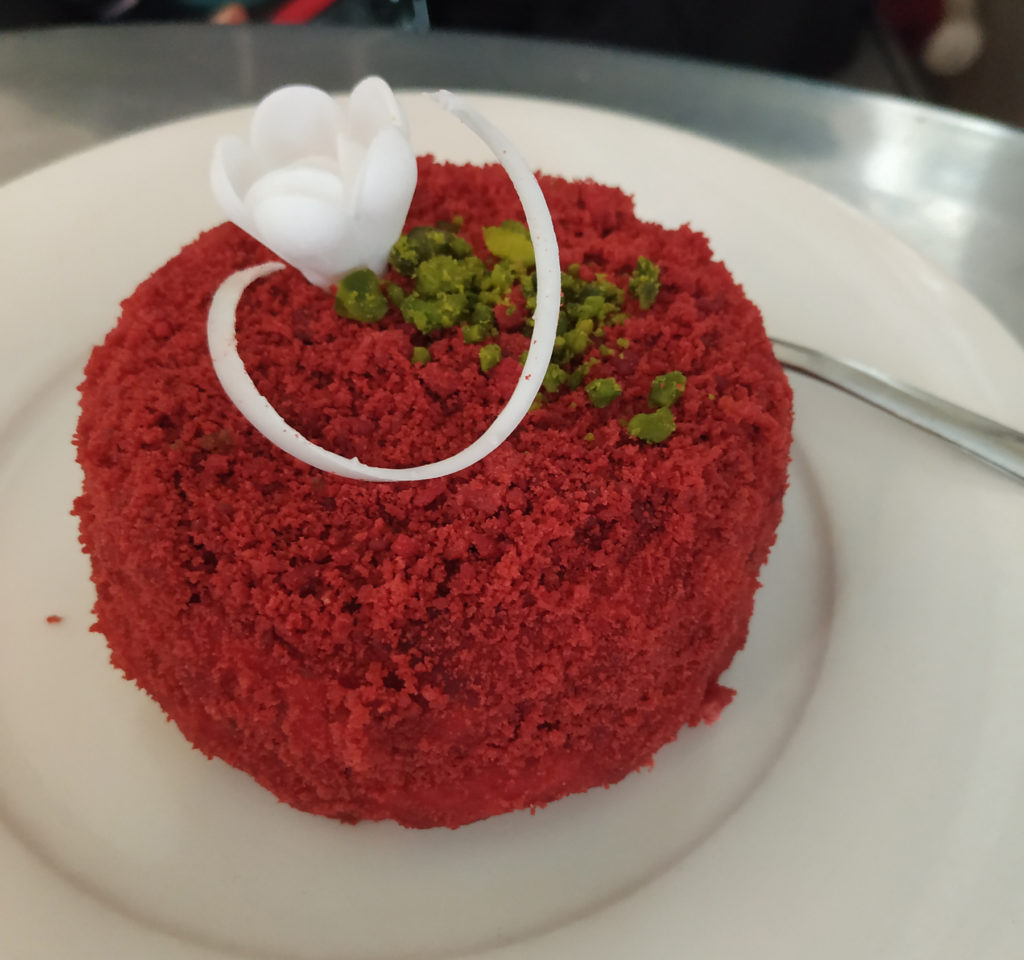 Kid had this red velvet cake. This is such a unique presentation for a red velvet, I don't think I've ever seen one covered in crumbs before but it gives it such an interesting look and a fun texture. On the inside the cake was pretty standard fare but it wasn't dry which was my worry with the crumbs on the outside. The jury is still out on if the decoration is edible (please stop putting inedible things on food, no one likes it).
I decided to go for this not quite a cake, 3 chocolate cake. This "cake" was basically just three different layers of chocolate ideas. It was surprisingly both gluten free and lactose free! I just wanted to eat pudding but finding lactose free cake options seems like it might be a boon for certain people. This was a really rich dessert that I actually had trouble finishing despite its small size. It was rich and chocolatey but not too sweet. The bottom layer was most cake like and then two layers of mousse and topped with a perfect ganache which might have been my favorite part of the whole thing. Creamy and silky and just the right balance of bitter chocolate and sugar.
Kid also got this cardamom bun (which I've actually had before). This bun is about halfway between a cinnamon roll and a scone and it's so good. It has a crunchy outside texture which gives way to the soft, sweet, and cardamom filled inside. They make these buns in a variety of flavors and some with jam in them and I'd absolutely recommend this over fancy cakes. Though your mileage may vary depending on home much you like bread and bread-like objects.
The service was really good. The cashier seemed to actually like her job which is pretty cool but I imagine in tourist season this place probably gets very busy and cramped so I'm not sure how much of that was just that it was a quiet, rainy day with very little foot traffic. Our drinks came out really quickly also and were good. Mine was the usual chai mix they use everywhere here but Kid's cappuccino was cuter than usual I thought.
This is an easy recommendation because of its location and the fairly high quality of items but I probably would not go here if there were more people because the inside space is just not very welcoming. If you can, I would sit outside when you come here otherwise it might be better to take a short walk over to NOP if you're around the Kadriorg area looking for cake.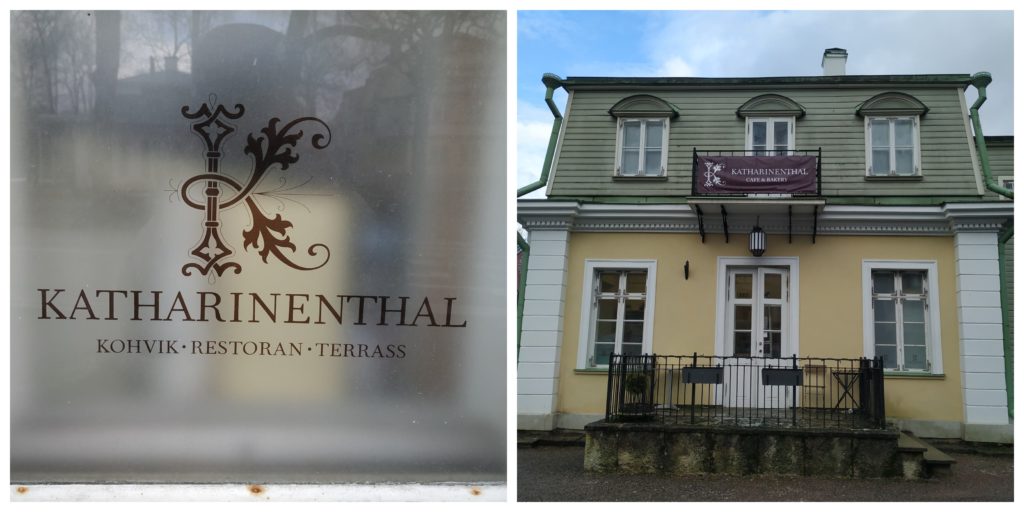 Ratings:
Coffee: 



out of 5
Cake:




out of 5
Pictures are mine 😀