Welcome back to my project of slowly reviewing all the coffee and cakes in Tallinn with my friend Kid, this week: super posh and up on top (of Solaris)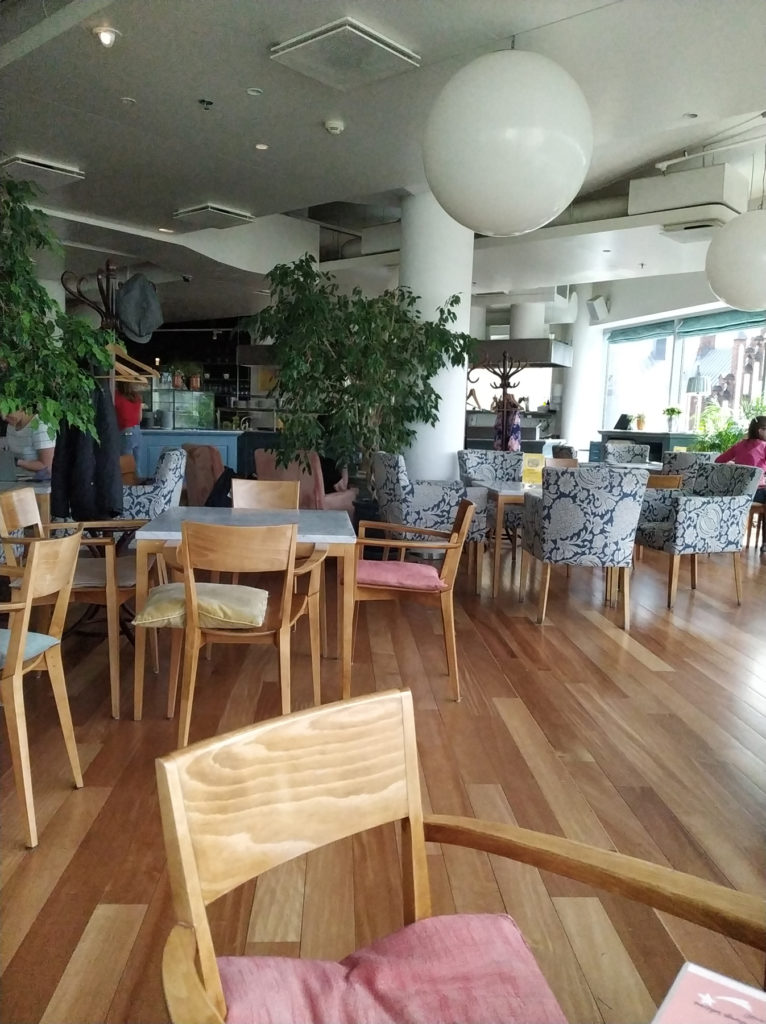 Address: Estonia pst 9, 10143 Tallinn
Date of visit: July 27, 2020
Drinks: Cappuccino (Kid) and Rosé (Mab)
Cakes: Strawberry Meringue Cake (Kid) and Cherry Meringue Cake (Mab)
Review: One of these days I will write a review in a timely manner but we're here and we're doing it so now that's all that matters, right?
It's really a shame that it took me so long to review this cafe because it's probably the one cafe I have been to the most in Tallinn. Why is that? It's centrally located, it's very nice, they have a good selection of food, drinks, and cakes and I really love the view of the opera house and most of the Old Town from the 4th floor of the Solaris shopping center.
It's easy to get to this cafe because it's at the top of Solaris which you can reach via a short walk from Hobujaama, Vabaduse väljak, or the Viru stop on the tram or you can take the 3/15/16/17/31 or 54 bus to the Estonia stop and you'll be basically at the doorstep.
Inside the cafe is a surprising amount of space, lots of sunshine (or at least the potential for sunshine with large glass windows), and a variety of great seating arrangements including tables centered around couches. Depending on the day and time it can be pretty busy but generally there's space for parties of 2-4 people.
The menu is set up with usually about a dozen choices for food, they have specials every day and they have 8-12 offerings of cakes and other treats some of which rotate frequently. Usually the have a large pastry case in the front so you can scope out the cakes before you sit down as well in case anything isn't to your liking.
While they have everything you could want in a cafe the downside is that it is a little pricier than other cafes in Tallinn. You get good service, quality, and atmosphere for your price but you're paying a premium for the view and the air of sophistication (and possibly catering to tourists shopping in the mall).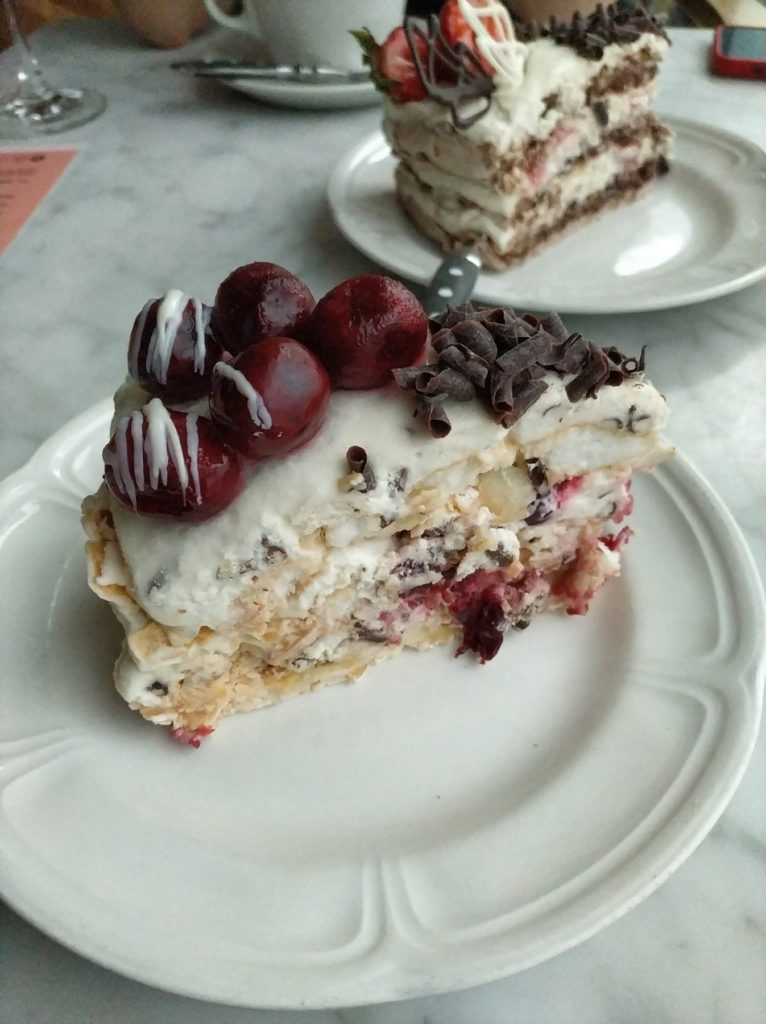 Just by coincidence Kid and I ordered practically the same cake, I got the Cherry Meringue Cake which has great layers of thin meringue stacked together with a buttercream like frosting, cherry jam, and chocolate shavings along with pieces of marzipan for extra decadence. It's topped with some syrup soaked cherries and more chocolate shavings. I absolutely loved this cake, I usually get the Cinnamon cake but this one is really good so I'm glad I made a last minute executive decision to get it. The cake has just the right amount of chew that you want from meringue but also has a very cake like quality where it's soft and sweet and just the right amount of bitter and sour from the fruit and chocolate. The cake was little too large for me after eating a light lunch though because I could only devour 3/4 of it sadly (don't worry Kid valiantly took care of the leftovers!).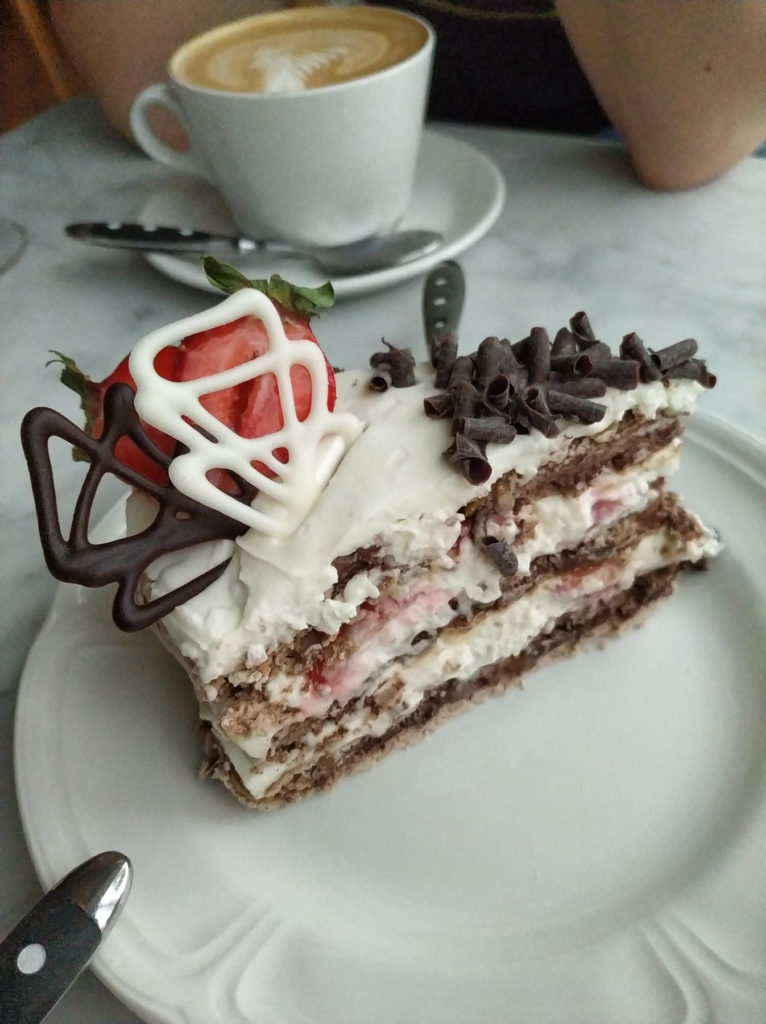 Kid had the Strawberry Meringue Cake whose variant seemed to also please him but contains chocolate meringue layers and the addition of strawberries and white chocolate instead of marzipan and cherries caters to a sweet geared palette.
The service was very good but it's very slow and we had to flag down the waitress any time we wanted anything. I don't usually mind this but on the day we went there were about 1.5 tables in the 90 minutes we were there so it was very awkward to basically have to stand up and make a show to be served since its all at table service. Normally when there are more patrons the service is much less…odd. We both had coffee drinks and a glass of wine which were both fantastic, the coffee is slightly better than average and the alcoholic drink selection contains a few really nice gems. I will say there is one thing I hate about this cafe and that is when they serve cake they always jam a fork in the side of the cake. I absolutely hate this even though its a genuinely benign action.
I'm not sure that I'd have to recommend this place because I'm pretty sure it comes up on most lists of "cafes to visit in Tallinn" but it's pretty much worth the "hype" that it has. If you're looking for a nice consistent place with good food, service, atmosphere it's hard to find a better one. It's only not worth it if you're watching your wallet very closely.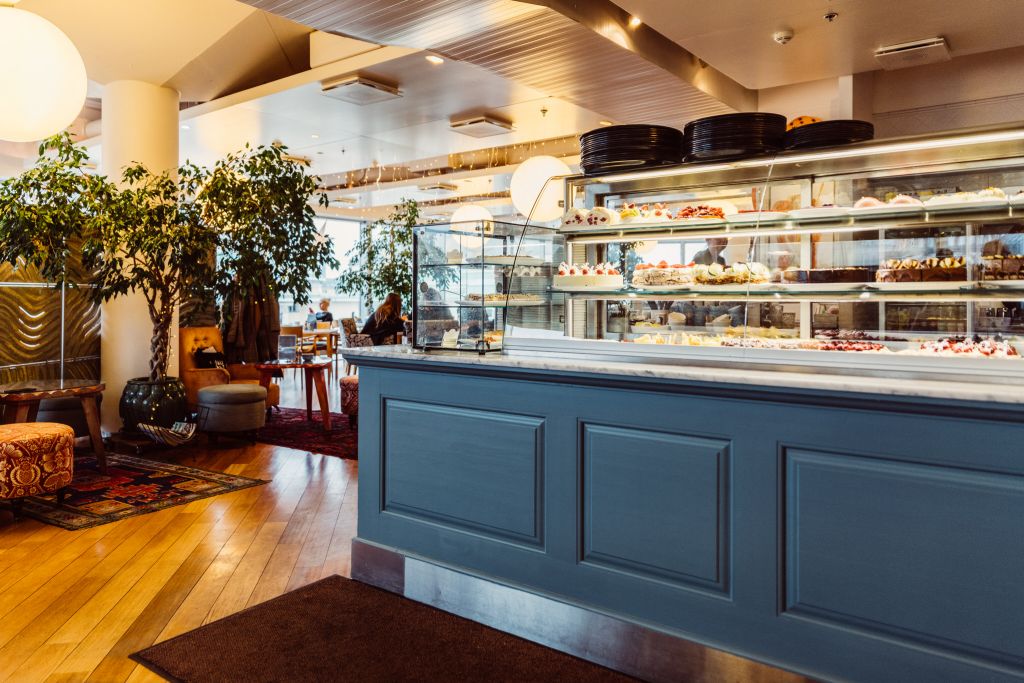 Ratings:
Coffee:




out of 5
Cake:




out of 5
Pictures are mine 😀