Welcome back to my project of slowly reviewing all the coffee and cakes in Tallinn with my friend Kid, this week: the last cafe of the year,  fancy French bakery!
This is my last cafe review of the year but you know what they say about the last…
Address: Meistri 22, 13517 Tallinn
Date of visit: December 21, 2017
Drinks: Coffee (Kid) and Latte (Mab)
Cakes: Bûche de Noël and Lemon Meringue Pie
Review: Though there are two other locations for Lyon, we decided to trot out to the far flung iteration of this cafe for a quieter experience with cake. Getting to this location from the city center includes at least 10 minutes of walking no matter if you take the 16 or 42 but it's worth it if you don't want to deal with the sometimes jam-packed Viru location.
Despite being sandwiched between industrial buildings, the cafe was beautiful and unassuming inside. It was dimly lit (hence the bad lighting on all the pictures) but in an inviting manner with soft velvet chairs, high top tables, and low hanging cage lights. This is a full service restaurant as well as cafe so besides the cake, pie, and bread products lining the counter, you can order a variety of French inspired dishes and compliment them with drinks ranging from smoothies to wine.
Service was good with all of the items being bused to the table by a lady in a red beret (a cute touch). Cafe Lyon actually advertises itself as a boulangerie (/bu.lɑ̃ʒ.ʁi/), or French bakery so I had high hopes for the cakes. How'd it go?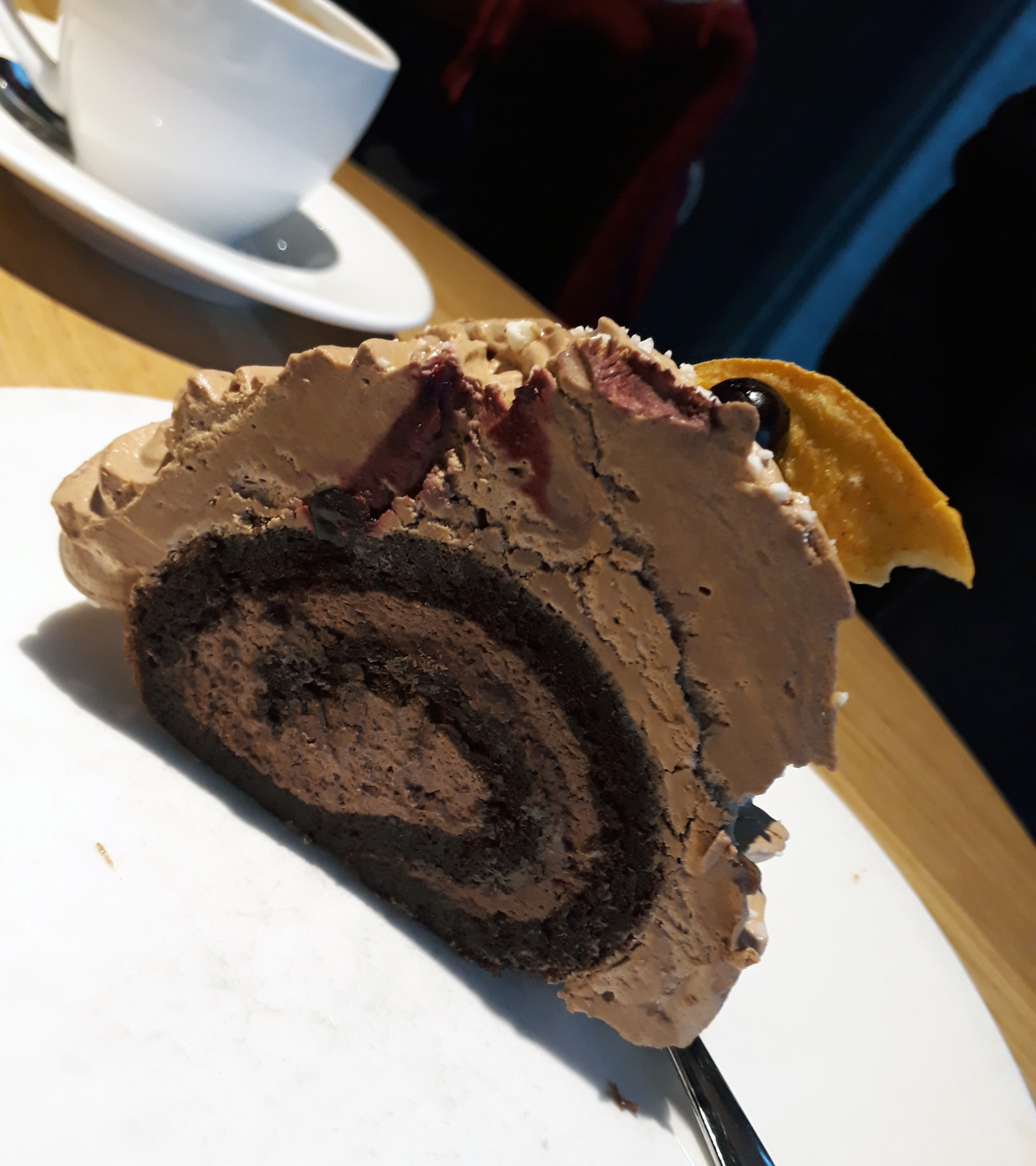 We had no trouble settling on cakes. The first cake we tried was a Bûche de Noël, sometimes called a Yule Log in English. It's a traditional French dessert made from rolled sponge shaped with frosting to look like a log. It's made for the Christmas season and can come in a variety of flavors. This one was a mix of chocolates (milk and dark) with just a hint of jam running through it. Despite appearances, this was not too sweet or too heavy and had a lovely, soft sponge. What looks like too much cream isn't as the cream is simply whipped to be very, very airy and only a small amount of chocolate was added to it so it doesn't claw at your palette too much. This went perfectly with coffee drinks as well.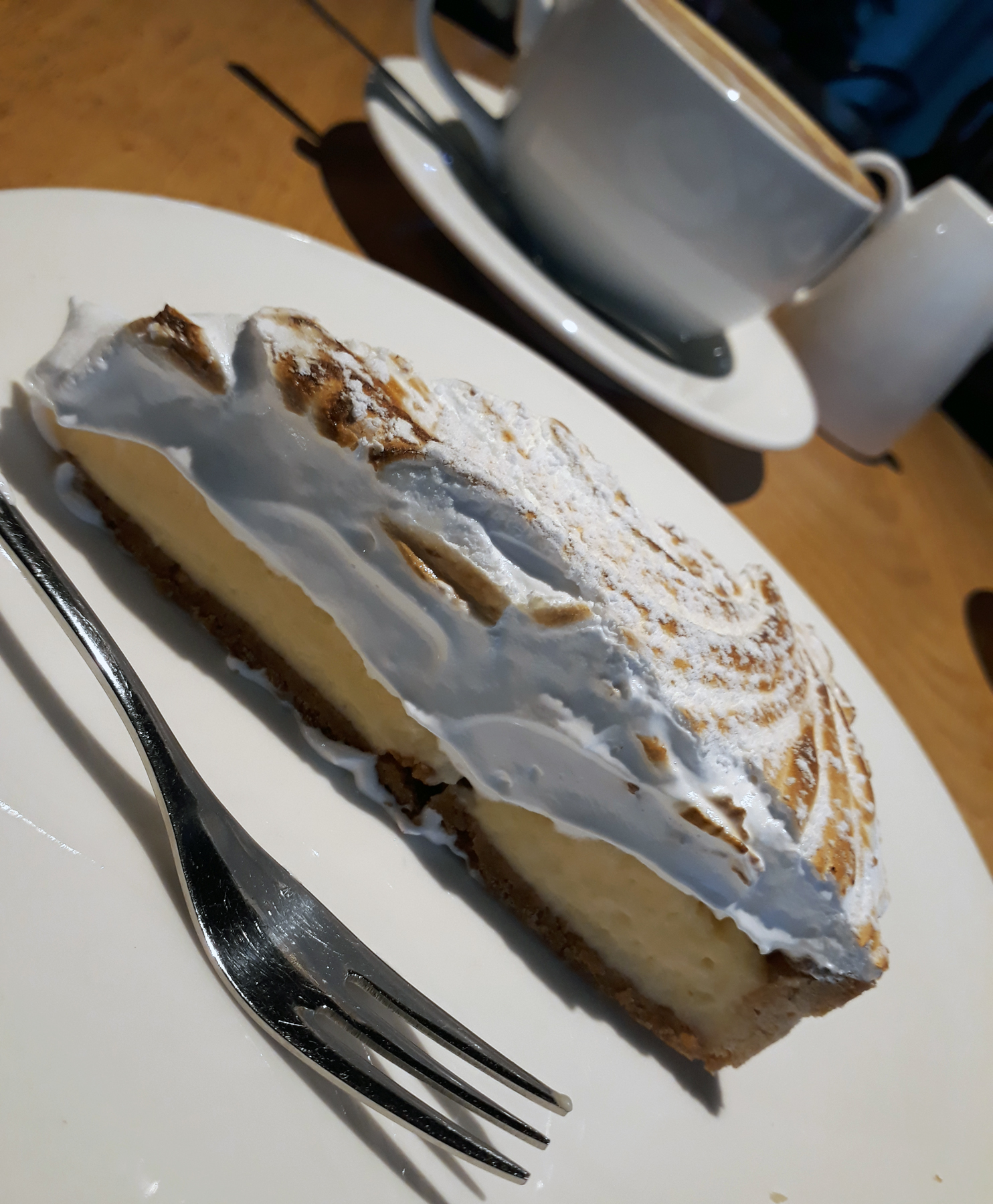 Second up is the Lemon Meringue Pie. They actually had quite a few pies in the display which is nice because pies aren't as common in Estonia as cakes. I'm actually not a big fan of meringue usually but this pie was absolutely divine. The crust was so thin and buttery more like a cookie than the usual grainy crust on this type of pie. The curd was thick, buttery, sweet, and lemony to the point of having to make a tart face. The meringue was not the usual chewy consistency I've had in other pies but more like a soft, fresh marshmallow consistency. I'm sure other people make take points off for the lack of crunch or bite the cake didn't have but the two of us really enjoyed it – hands down the best cake I've had all year. We even ordered a second piece upon finishing this one.
The latte I had was creamy and mellow, Kid actually got black coffee this time (correctly) and there were tons of other great cakes I'm not excited to go back and try. The cakes were so good I even thought about coming back to order non desserts (gasp) in the near future.
I'd be interested to try the location closer to home and see if the quality is the same but otherwise I can really give a big thumbs up to this location of Cafe Lyon and say it might be worth it to go out of your way for this gem in the New Year!
Ratings:
Coffee:




out of 5


Cake:




out of 5