Welcome back to my project of slowly reviewing all the coffee and cakes in Tallinn with my friend Kid, this week: a proper cake shop!
We were actually trying to go to a different coffee house when we passed this place and since the second shop had no more cakes the day we decided to double back and give Levier a try.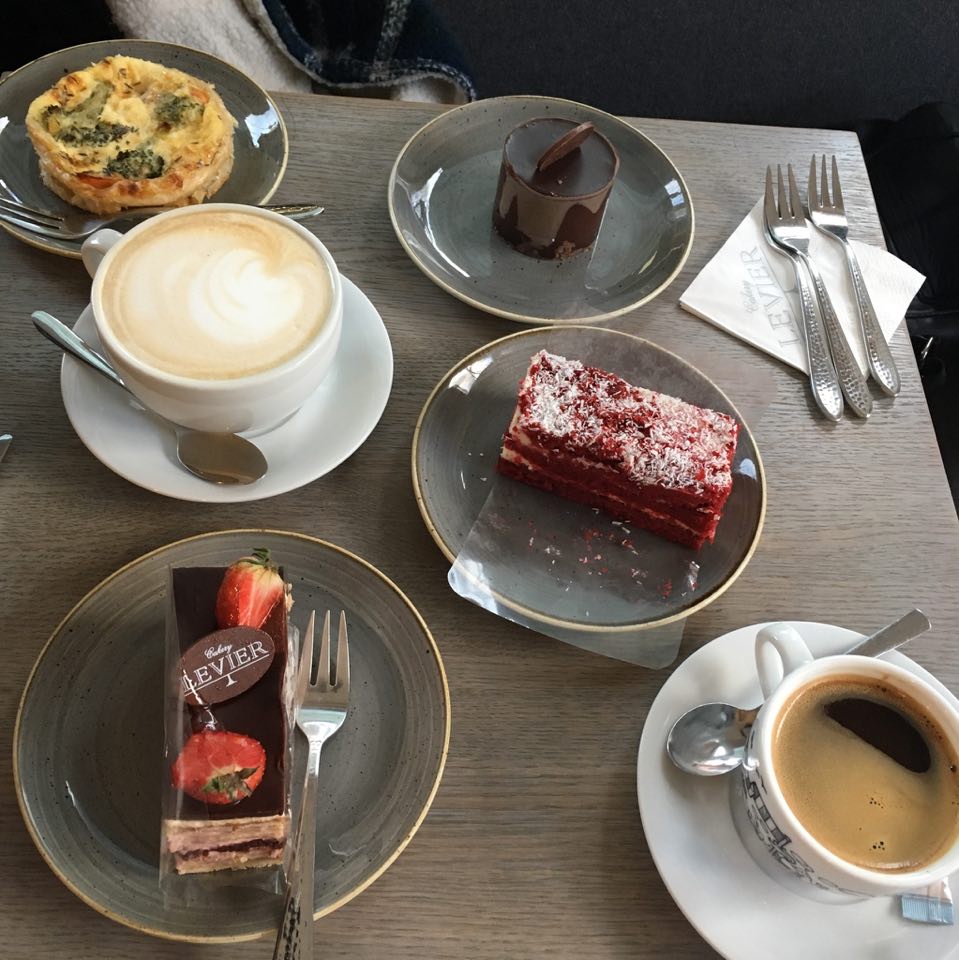 Address: Vana-Kalamaja 21, 10414 Tallinn
Date of visit: November 16, 2017
Drinks: Cappuccino (Kid) and Latte (Mab)
Cakes: Red Velvet and Cookie Cake (Kid) and Salmon Quiche and Chocolate Truffle Cake (Mab)
Review: In the heart of Kalamaja, your best bet for reaching Levier is either by the 3 bus or the 1/2 tram line. It's just a few blocks from either of those. This cozy little shop seems to be mainly a bakery but there were plenty of savory offerings and also wine glasses on display so presumably sometimes they also sell wine.
The space was quaint. With only 6 real tables inside it would have easily become cramped if there were more people in it. The service we got was the distinct Estonian style I've come to appreciate. Food was bussed to the table (all of 2 meters away though!). The inside was kept cozy but there were also soft blankets available. The seating was really soft and the color of the interior was gray but the type of comforting, soft gray that makes you feel at ease instead of cold.
The coffee was serviceable but the cakes were really amazing! The selection is very colorful and playful including everything from hand decorated gingerbread to almost a dozen flavors of macaroon in all manners or color and flavor and a dozen flavors of cake including berry quark tart, passion fruit tort, and even red velvet. Great loved the cookie cake but reported the red velvet was a bit too sweet (which makes sense since it's American dessert after all…).
I can easily say I've had quiche that was better almost anywhere else as the bottom was soggy, it was too salty, and it had a strong fish flavor that overpowered everything else, the texture was almost bad but the cake I had was divine. Next time, skip everything and go straight to cake. I couldn't finish my cake because it was so rich but it was completely worth the 2,50€ price tag (it was very small but you would not want it any larger as it's basically eating a giant truffle!). I was expecting to be shell shocked by price due to the really lovely look of the place and that it's not a coffee shop but a "cakery" but actually it was only a hair above average. So my advice is: come for the cake, skip everything else.
Also they had just the cutest cup designs: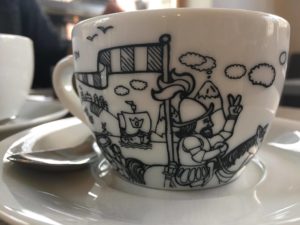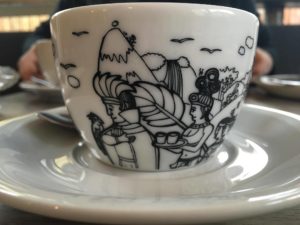 Ratings:
Coffee:



out of 5


Cake:





out of 5