Welcome back to my project of slowly reviewing all the coffee and cakes in Tallinn with my friend Kid, this week: a hipster hang that's part bar, part coffee house.
Address: Müürivahe 20, 10140 Tallinn
Date of visit: January 26, 2018
Drinks: Cappuccino (Kid) and Rhubarb Soda (Mab)
Cakes: Blueberry and Vanilla Cream Pie (Mab) and Mud Pie (Kid)
Review: Must Puudel (Black Poodle) is located on one of the quieter streets of Old Town but it still seems relatively popular as there were plenty of people there at 6pm on a cold, winter night. Since it's in an odd spot between two stops, it's slightly faster to take a tram or bus to the Vabaduse Väljak stop and walk from there but you could easily walk from Hobujaama or Viru as well with only a minute or two of extra foot work.
The first thing I noticed when we stepped inside is that there is a giant display case of cakes on the left and a bar on the right. Must Puudel is open quite late, until 2am on some nights, and is a full bar on top of being a cafe so it would be easy to have a late dinner and carry it over to dessert and drinks very comfortably. The space is quite large and offers a variety of seating options including an outside deck for the summer. The pictures on the wall were very hip, black and white twisted animal prints which I really enjoyed but was too nervous of strangers to get proper pictures of. We ordered at the counter but there is an option to order at the table if you prefer.
The cakes ranged from standard favorites to slightly more wild choices, a variety of colorful macarons, and a wide of selection of strange sodas. I don't usually drink soda but there were a lot of fun flavors to pick from so I was sufficiently tempted. I also got the feeling they rotate their cakes regularly because all the plaques were just print outs in clear stands.
So, how's the cake?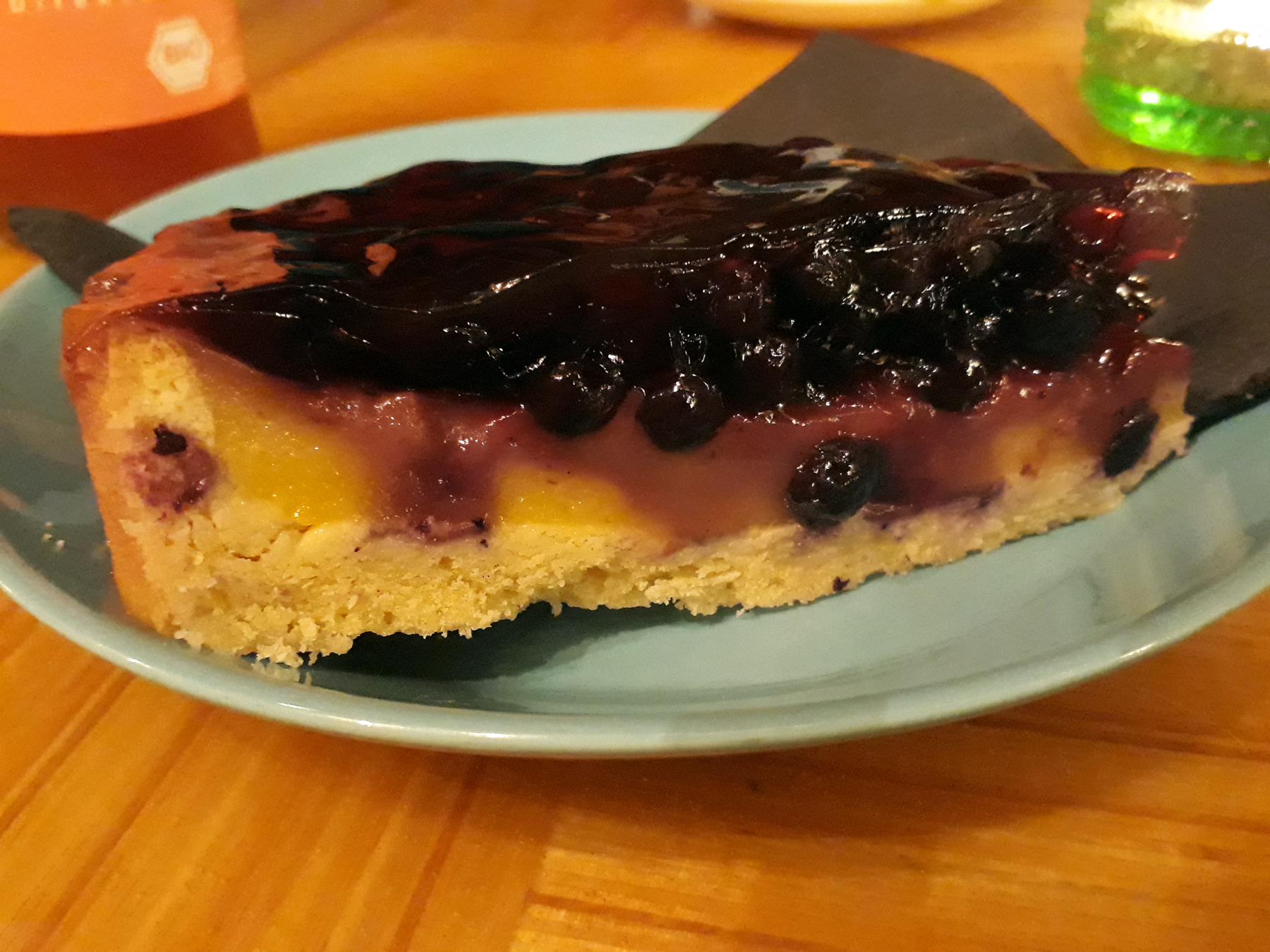 My cake was a blueberry and vanilla cream cake. A really thick shortcrust base with a layer of very thick vanilla custard and topped with a firm gelatin layer of blueberries. Normally I'm not a big fan of gelatin layers on cake (or gelatin in general) but the top layer of this cake was intensely fresh tasting and perfectly blueberry. The shortcrust was not too crumbly or sweet and the vanilla custard pulled the whole thing together with a layer of thick, sweetness between the somewhat low flavor base and the intensity of blueberry on top. I really enjoyed this cake, I probably would have had a second slice if we'd lingered too long.
Now here's where I have to apologize because I didn't get a picture of Kid's pie so you will have to live with only the overhead shot of it. I also didn't taste the second pie either, but I can make a few remarks about it. First off, it probably wasn't exactly "Mud Pie" (which I assume is supposed to mean Mississippi Mud Pie). The base was a full on layer of brownies instead of your chocolate crust/oreo cookie pie base and instead of more than one layer filled with cookie or chocolate crumbles it was instead more like a pie version of Hi Top cupcake, a cream layer topped with a dusting/coating of chocolate flake. Mud Pie should probably contain more chocolate bits, chocolate pudding maybe, and some extra layers if possible to make the whole thing look…well, muddy. Honestly the cake cut too cleanly and didn't have enough visual interest for me to think of it as a mud pie. Despite not looking the part it still got a thumbs up from my dining partner so we'll just say it was a clean twist on a Mud Pie.
So you may have noticed from the picture that I didn't actually get a coffee, sorry! It was late and they had too many fun drinks to pick from but the rhubarb soda I got was great and Kid's coffee came in a Moomin cup so it's probably 3 stars for just that (with a Moomin sugar pot too of course!). My soda was served in a wine glass which is also great because that's something I do at home. I just want every drink to be a special drink.
Overall, the vibe of this place was a little too beautiful and cool for me on that particular day as it's quite a hip little joint. I think I might come back though and have dinner and drinks at some future time, though I would feel compelled to actually wear makeup and dress a little nicer than usual. Their cake selection might tempt me in again if I happen to be passing by, at least for a look. I imagine in the summer this place is probably quite popular with tourists as it offers a really nice selection of things, stays open late, and is a three in one cafe/restaurant/bar. Really lovely all around.
Ratings:
Coffee:




out of 5


Cake:




out of 5