Welcome back to my project of slowly reviewing all the coffee and cakes in Tallinn with my friend Kid, this week:  a tourist staple right on the main drag of Old Town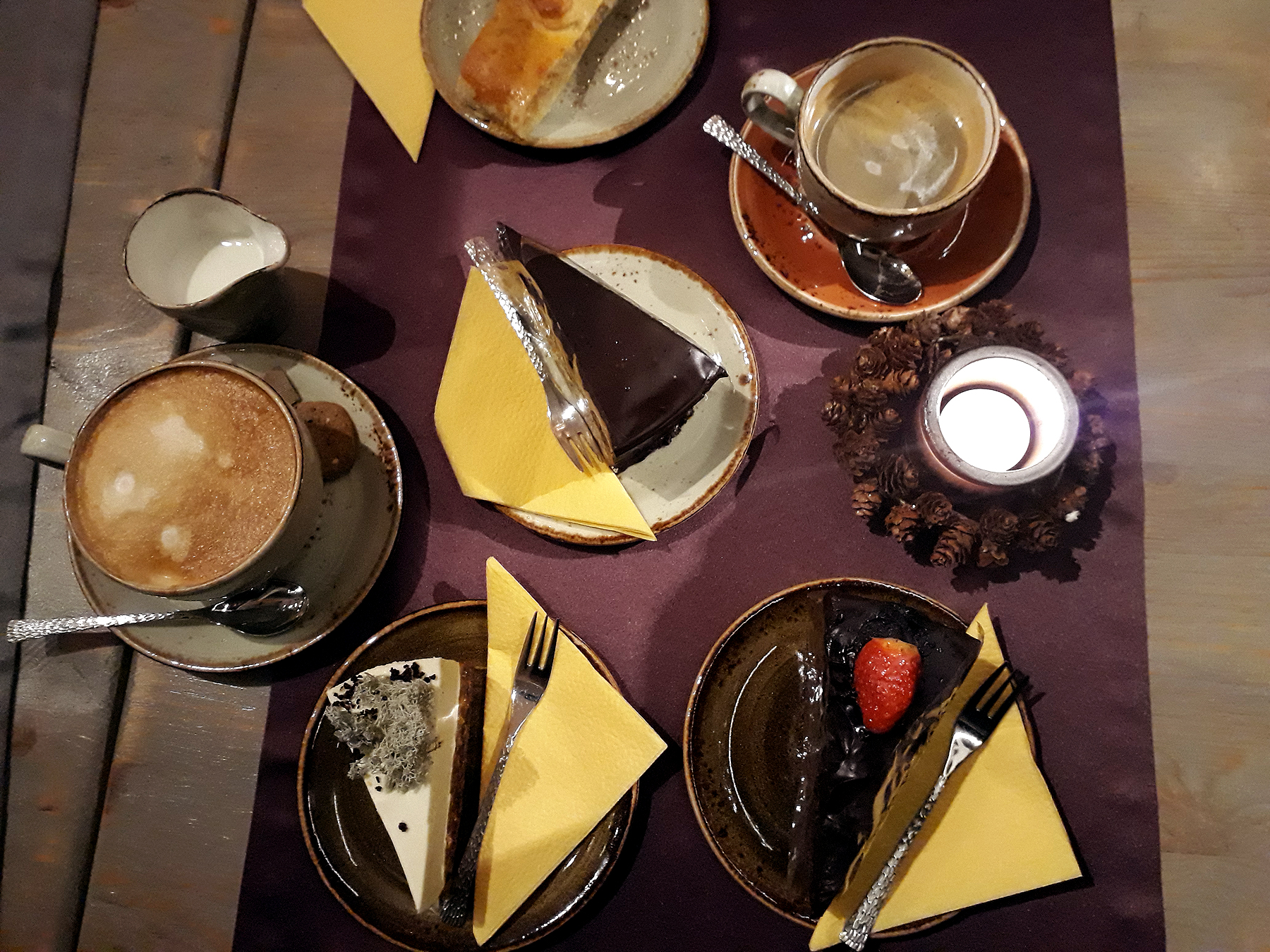 Address: Viru 15, 10140 Tallinn
Date of visit: January 18, 2018
Drinks: Cappuccino (Kid) and Latte (Mab)
Cakes: Moonitort, Kirsi-šokolaadi tort, 100th Anniversary Special Tort
Review: Rukis is a newer cafe, built in 2014, and located on the main drag in Old Town. It's basically reachable by most trams and buses from either the Viru or Hobujaama stops. In the summer this place usually is filled to the brim with people but thankfully in the cold winter months it's never empty but never full either.
The inside, especially for winter, is cozy and charming. If there had been a fireplace it wouldn't have felt overwrought. Tables are jam packed in the surprisingly large space for the extra summer crowds but we were able to spread out at a 4 top table on our visit without any issue. We placed our order at the counter and it was brought to us but the cafe is generally more of a sit-down and order so either option is fine.
They had about a dozen types of cakes all which look so good that I had to talk Kid down from getting more cakes. The service is almost exclusive under-20 year old women which gives the place a weird feel but they were really sweet with us and even joked about our cakes so it's not necessarily a bad vibe either.
So, how's the cake?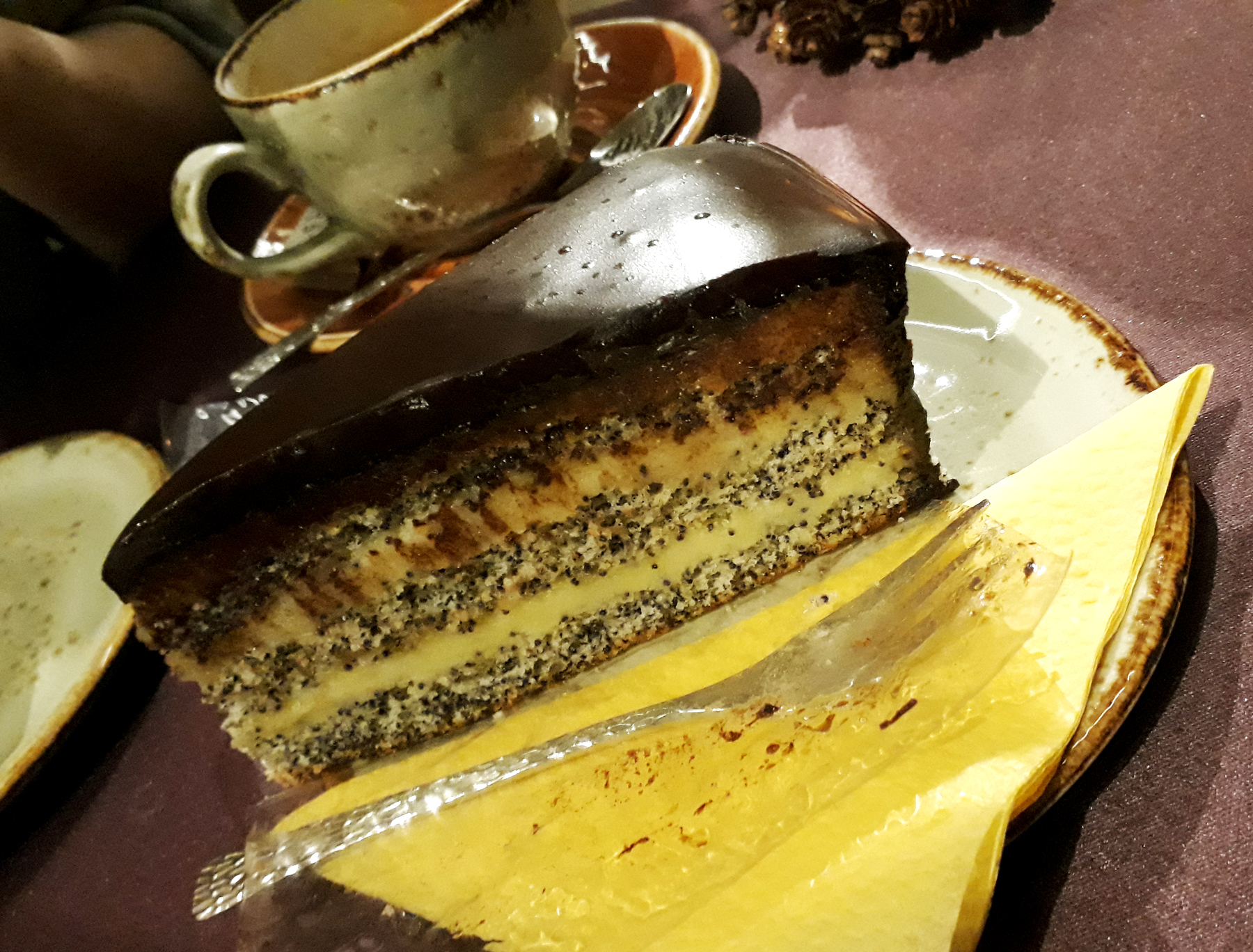 Up first is the poppy seed cake. A very soft and light sponge filled with plenty of poppy seeds sandwiched between layers of thick vanilla custard-like frosting all topped off with a healthy coating of hazelnut ganache. It's even better than it sounds. The light as air poppy seed layer means that the cake all together never gets too heavy. We assumed the top was simply chocolate so the hazelnut was a nice surprise and I think it off-sets the lightly sweet frosting.
Next up is a cherry-chocolate cake. The waitress kindly asked if it was okay if it had rum in it and I said "that only makes it better!" of course. What I assumed: the cake layer has rum baked in to it. What it actually was: The frosting has rum in it and the cake is soaked in rum and also the strawberry on top was soaked in rum and the whole cake tasted like eating a handful of chocolate while taking a shot of rum.
There's nothing necessarily wrong with that but it does beg the question of why you would call this a cherry-chocolate cake? There are supposedly cherries in the frosting but the only flavor you get is the tang of rum and the richness of chocolate. I couldn't finish my half of this cake but it did go exceptionally well with coffee. If they'd taken the rum down a notch and upped the cherry flavor I think I'd enjoy this cake a lot more.
Lastly we have the special cake. I always forget to ask what is in them but I'm pretty sure I could guess. This seemed to be your standard cheesecake with sea buckthorn jam layer and then a thick cookie base topped with candied something that looked nicer than it tasted. This cake was for the 100th anniversary of Estonia but it felt more like a mystery to me. Even after eating it I couldn't decide if I liked it or not. It didn't feel coherent but it also didn't taste bad. You take that metaphor wherever you like.
The coffee we were served came with a surprising amount of sugar packets and a little cookie next to it. I don't usually put sugar in my latte but I absolutely had to here as the coffee was bitter and heavy. This went exceptionally well with our sugar bomb of a cake order but in general it is just off-putting.
Side note: Kid also ordered a cabbage pie which he seemed to really enjoy.
Overall, I had a bit of a mixed reaction to their cakes but I've had the food and bread here and it's pretty good so if you need a cake after dinner just stick with the poppy seed one and everything will be okay. I'm not shocked that a place that caters to tourists offers a lot of interesting options but they don't quite live up to the hype. Also unless you love strong coffee, it's best to just steer clear of Rukis for your caffeine fix. The best part about this place was easily the staff and environment so hopefully they can up their cake game in the future because I wouldn't mind coming back again.
Ratings:
Coffee:



out of 5


Cake:



out of 5