Welcome back to my project of slowly reviewing all the coffee and cakes in Tallinn with my friend Kid, this week: a tea room like staple with a glorious cake display.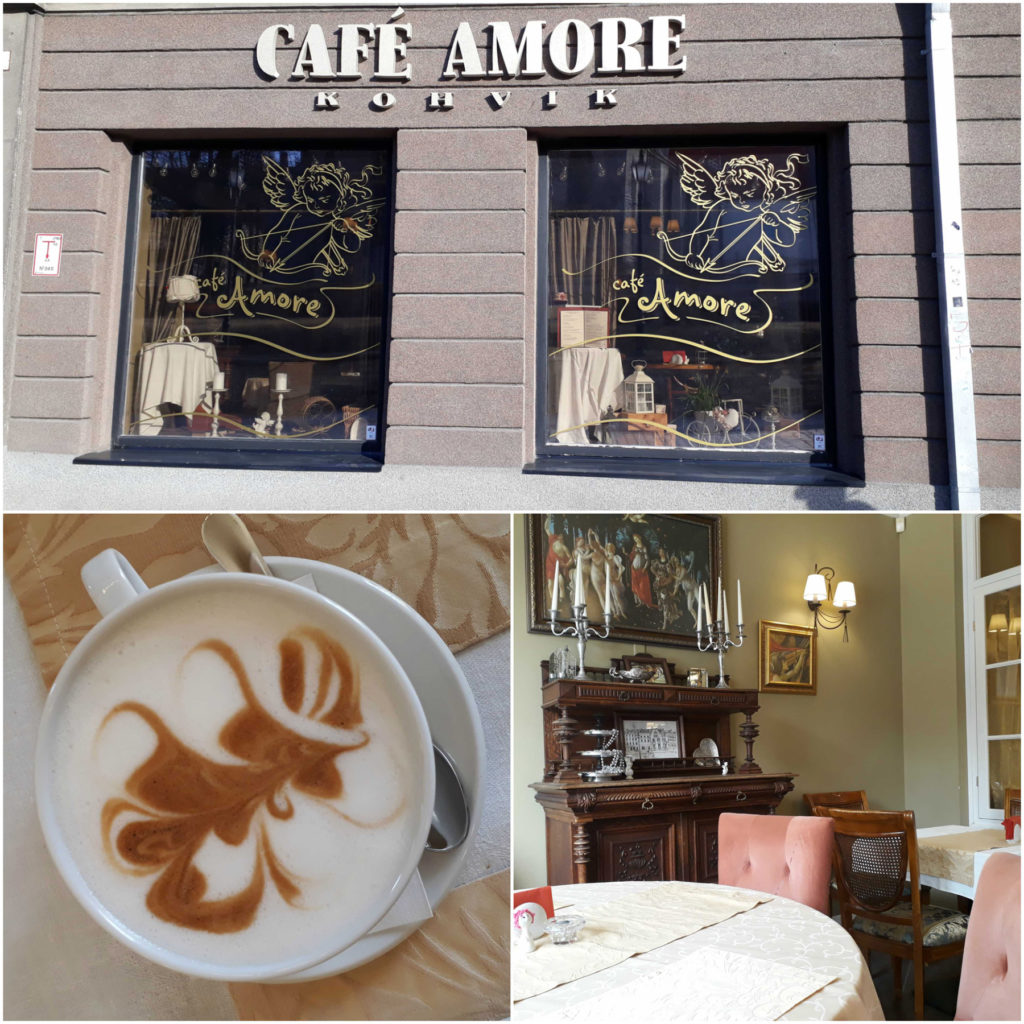 Address: Harju 7, 10146 Tallinn
Date of visit: April 13, 2018
Drinks: Green Tea (Kid and Zanna) and Latte (Mab)
Cakes: Caramel Cake (Mab), "Iceburg" (Kid), "Almond" (Zanna)
Review: The weather is just beautiful which means back to cafe hopping, now with added Zanna! Cafè Amore is located right off of Vabaduse Väljak which means you can take any bus, tram, or trolley that connects to that stop and of course it's on the edge of Old Town so it's easily accessible. We've been trying to go to this cafe for a while but they close at odd hours during non-tourist season which is something to be aware of.
The space is really cozy and reminds me of a tearoom.  The seats are a mash up of soft, plush velvet and more standard wooden style chairs. There is a large second room behind the main room that seems like it could accommodate quite a lot of people. All of the tables are covered with long, flowing tablecloths and topped with plush place mats. The space is neat but not too overly personal. There was also no music playing which can be a plus after a long day spent around noisy crowds.
The service here was absolutely nothing to complain about, the cashier bused our drinks and cakes to the table and the owner and cashier didn't seem to mind us hanging around after we finished our food. The cakes took quite a while to prepare which I didn't understand because they're already cut in the case but it made sense when I saw each cake comes on a plate like this:
The cost is a bit high but it is right on the main drag of tourists. They serve everything from light meals to alcoholic drinks and have a very wide selection of different cakes, all of which looked pretty appetizing even before their jam and fruit treatment.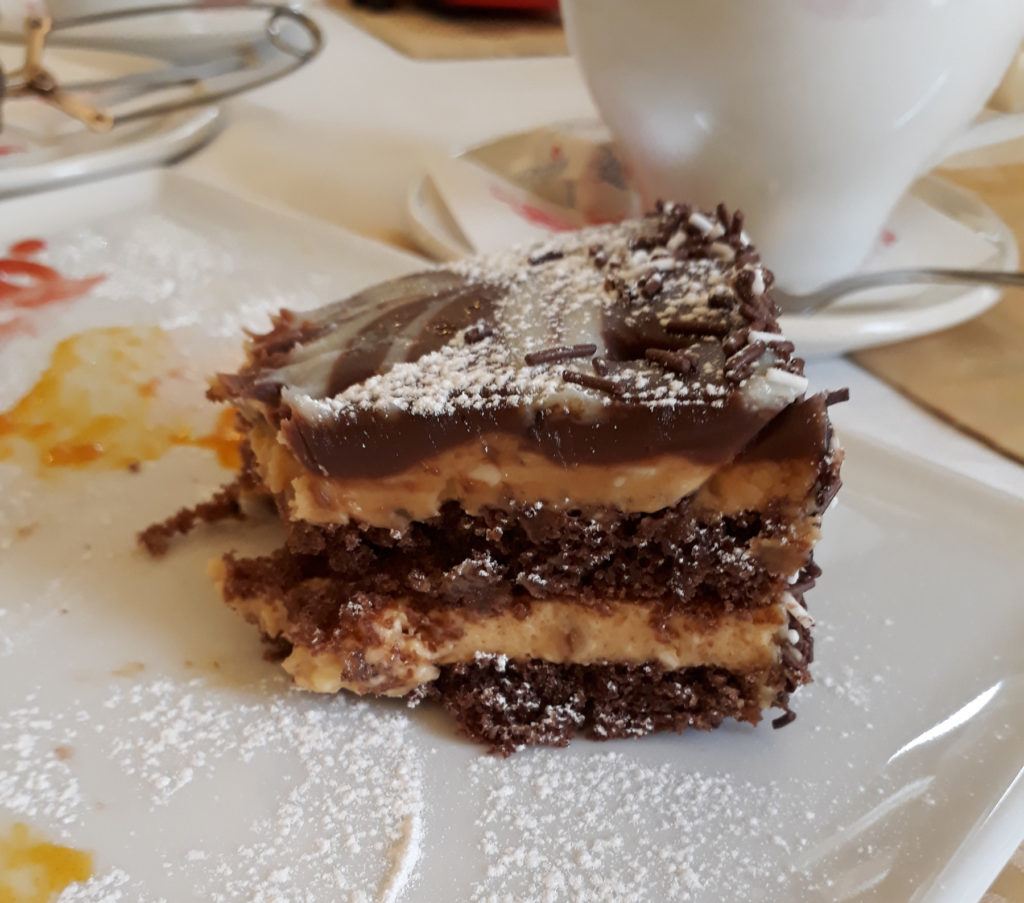 While I hemmed and hawed over which cake to get I eventually settled on the Caramel Cake. I'm unsure why I did this because I'm not a big fan of caramel. This cake was significantly smaller than others which may have helped me choose but who knows. The cake is rich, almost too rich, creamy with a sharp but not unpleasant chocolate flavor. The caramel frosting is surprisingly subtle and it has nuts mixed in to it for texture. The cake itself was a little on the dry side but an abundance of thick, rich frosting made up for that. The best part was the sprinkles though.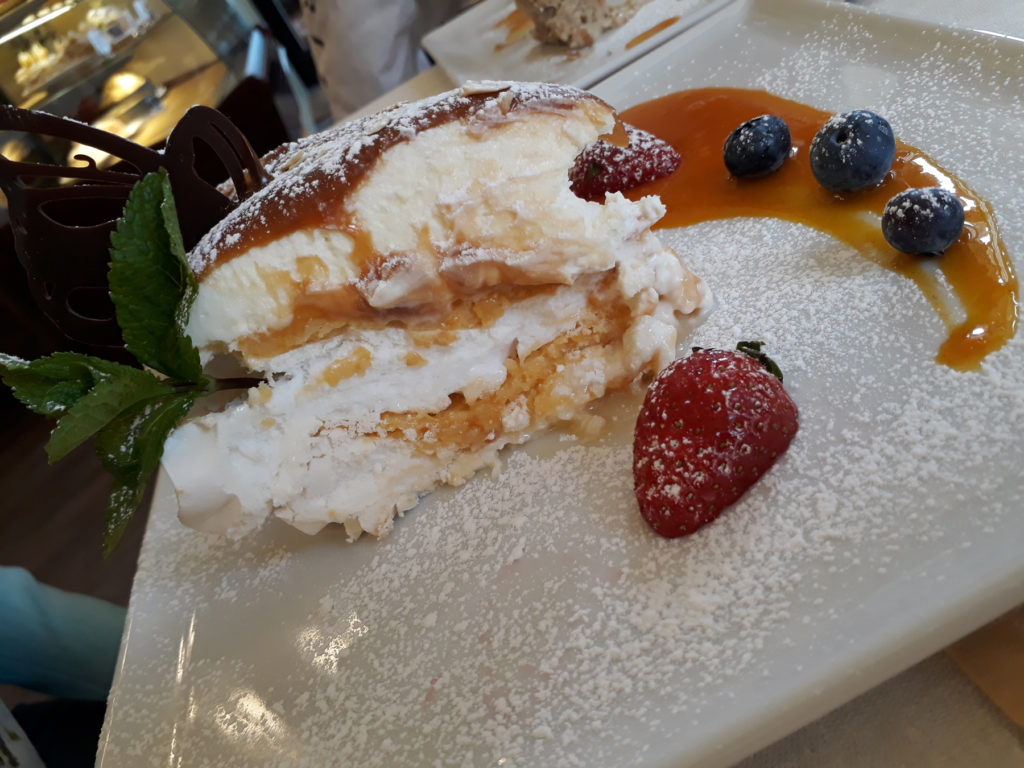 Zanna got the Almond, which is a strange name for what looks like a pavlova style cake. It was thick and rich with ample layers of cream and meringue and topped with gooey caramel and a decorative piece of chocolate (which Zanna didn't eat!!). This cake got a thumb up and a clean plate but wasn't that exciting overall. A fairly standard cake from a shop.
I helped Kid pick this cake because we are working on a scientific theory that ugly cakes taste better (or really that the more polished a cake looks, the less likely it will taste amazing). The Iceburg is a very ugly cake. In the tin it looks like a mound that someone glued together with icing and sugar. The cake itself is somewhat confusing. Full of layers of something and something else, nuts, and what seemed to be swirls of cream. The cake tasted like a mix between crumb cake/coffee cake and a doughnut which is a glowing review. The cake was irresistibly soft and almost silky in spite of its dense appearance. It had a texture closer to angel cake more than pound cake. After one taste I instantly regretted not getting the cake for myself. Surprisingly this was not an overly sweet cake and would probably go well with black coffee or heavily steeped black tea.

Overall, this was a really great cafe. If you can catch this in the off season it would probably be better since it's likely to be full during the summer but it's worth it to come in and pick up a piece of cake (especially the Iceburg!). They rotate their cakes fairly frequently as well so it might even be worth a few stops a year.

Ratings:
Coffee:



out of 5
Cake:




out of 5

This weeks pictures are all mine because Great forgot her camera 😀