Welcome back to my project of slowly reviewing all the coffee and cakes in Tallinn with my friend Kid, this week: gelato again! I promise we'll get back to cake eventually.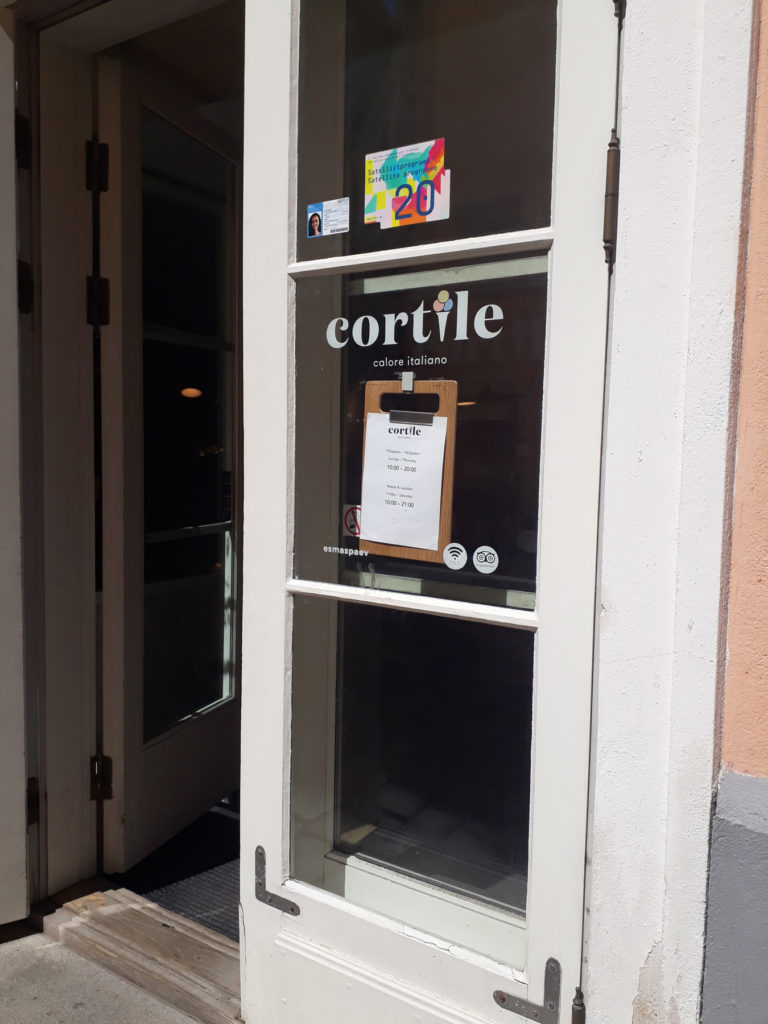 Address: Lühike jalg 4 10130 Tallinn
Date of visit: June 7, 2018
Drinks: Cappuccino (Kid), Water (Mab)
Cakes: Chocolate-Banana, Salted Caramel, and Mascarpone (Kid), Black Cherry (Mab)
Review: I promise to actually get a coffee and a cake at the next place but it was a warm day and I had taken a long walk so we ended up at a gelato place again. I think it's kind of amusing in a way that gelato shops are the norm and I can only really think of one real ice cream shop (La Muu). Either way this one is located in Old Town, right off the main square. It's honestly a bit of a pain to get to no matter which stop around Old Town that you take because it's kind in the dead center away from all the transport. Viru, Vabaduse Väljak, Linnahall, and even walking over from Balti Jaam are all going to take about 8-10 minutes.
The inside isn't as cramped as you'd imagine for being on such a small road and there's a lovely space inside with very modern looking tables and couches lined by book shelves and wooden walls. It feels like a comfortable hobbit hole inside and I was especially fond of the inner courtyard of someones residence that the large window of the shop was facing.
The shop also makes their gelato on site and has a big window on the left side of the shop where you can see them doing so (they weren't making any while we were there sadly.) They serve less flavors (about a dozen) but more traditional flavors, aside from the chocolate-banana everything seemed to be more in line with what I expected from a gelato shop. They did have two types of cakes and several really good looking cookies to choose from that I kind of regret not getting. They had coffee drinks but they also gave me tap water for free which is a huge plus in my book.
Most of the flavors were named in Italian which is cute but possibly confusing for some. I got the black cherry (amarena) which I don't think is an Italian word people are typically familiar with so I'm not sure which audience they're trying to appeal to as you're in the middle of Estonia and no one is looking for an authentic Italian experience here? Either way this gelato was extremely softer and less sweet than at Gelato Ladies. The flavor is much smoother and less intense also. The cherry notes were deep and rich but never overpowering. The only complaint I had was that the cup was small but not filled up all the way so I kind of felt short changed.
Kid got three flavors including the mysterious chocolate-banana which she was disappointed to find was more banana than chocolate. While she liked the salted caramel I don't think she liked it as much as the salted peanut she had at Gelato Ladies and she declared "never again" after eating the Mascapone but that's possibly because it was her third scoop.
This shop was basically the polar opposite of Gelato Ladies. Modern inside instead of homey, the service was typical and not particularly friendly (and they made fun of us while we were there). Also there was practically no one in the store. We spent a little over an hour in the shop and I only counted four groups that went in and out. For a hot day and a location more central to where tourists are it was pretty surprising to me there weren't more people in there.
Overall this was a pretty good experience if you just crave really delicious gelato. Despite the gossip-y teenagers at the counter I would probably go back here again because I thought the gelato was much better and the space was much calmer and quieter than Gelato Ladies. I wish we could have been around for when they were making the gelato too and if I knew the times they did that, I'd plan my trip for then. Next time I'll be sure to try a coffee and cookie as well 🙂

Ratings:
Coffee:



out of 5
Cake: No rating
Gelato:
out of 5