Welcome back to my project of slowly reviewing all the coffee and cakes in Tallinn with my friend Kid, this week: a cozy cafe with pie to spare.
Address: Pärnu maantee 76, 10131 Tallinn
Date of visit: August 1, 2018
Drinks: Cappuccino (Kid), Latte (Mab)
Cakes: Chocolate Fondant Cake with Ice Cream (Kid), Lemon Pie (Mab)
Review: Whew, it's been a long minute, this review is a month overdue but here it is in all its glory and more will be coming in the future as well now that all the others things have been taken care of!
Anyway, what you came for was a review of Grenka and that's what you'll get. Grenka is a Belarusian cafe conveniently located right off the Vineeri stop if you take the 3 or 4 tram. A slew of buses also stop there including the 5, 18, 20, and 36. It's easy to reach and because of that it can get very busy with local traffic during the main food hours though most of your competition for seats will be locals if that makes a difference to you or not.

The inside is cozy and contains a few different types of tables including long green couches that sit low on the ground and feel distinctly, to me, like you're in a museum entrance hall but in a good way. There isn't a ton of space to move around in the cafe and the there aren't many tables so this place is best visited on the off-hours during the week since the space can get very loud when all the tables are full.

The menu here is mostly regular food instead of being more focused on dessert or quick food. The menu has a good mix of home style cooked meals, grenkas (grilled bread served with a variety of different toppings), and a daily selection of savory and sweet hand shaped pies. There are usually 4-6 savory and 2-4 sweet pies per day and these can also be purchased to go.
Depending on the time of day and how many people are in the cafe you can order at the counter or the table. They serve breakfast until midday and after that you can order anything else on the menu. Everything on the menu is fairly well priced and pie pieces start at around 1,50 euros.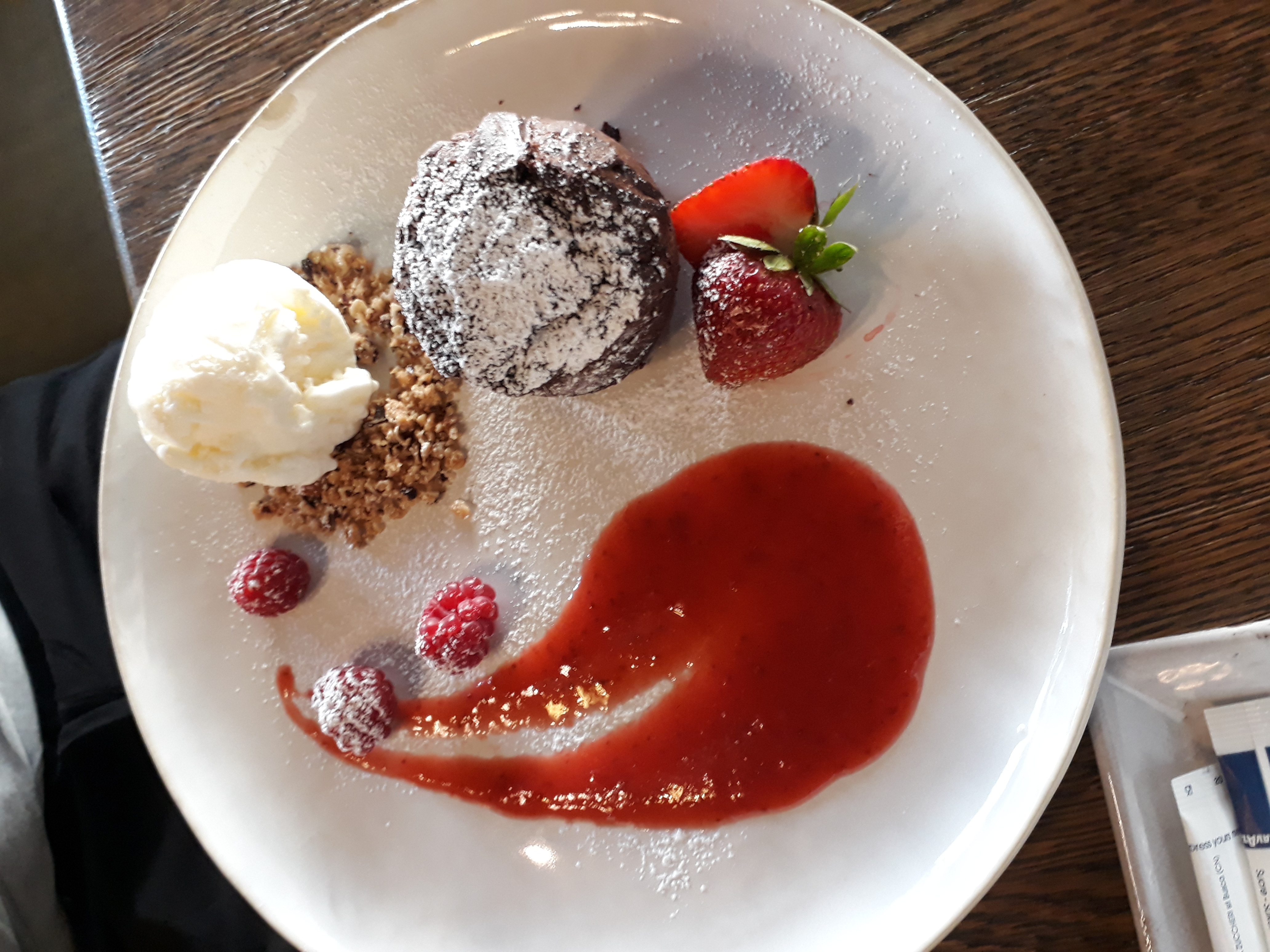 Kid got the Chocolate Fondant Cake with Ice Cream and then proceeded to literally lick the plate clean. This isn't exactly what I thought of when I thought of chocolate fondant (though I'm not sure what that means) but this was basically a chocolate lava cake accompanied by berry jam, crumble, and ice cream. While Kid thought that the jam was something to write home about the cake seemed to get a less solid review. This was clearly made to order though which is a lovely touch for a dessert and the option to add ice cream is a great idea.

I got the Lemon Pie and oh boy was this a very confusing dessert. It sits in an area between savory and sweet that left me just a little baffled. The outer shell of the pie is almost exactly the same as the one they use for their savory pies though it possibly has a little more egg or sugar in the dough. I love the way the pie looks and the decorative flourish but I could not finish this pie. It was in as few word as possible: too much. The filling is somewhere between the flavor of preserved lemon and lemon curd, just skirting the edge of too sweet and too sour all at the same time and the outside being such a light flavored bread didn't really help. I started off really loving this but it quickly became an overwhelming experience that made me wish I had gone for the (probably) safer berry pie slices. I don't know how I manage to eat so many challenging desserts.

The coffee at this place is pretty good. The latte comes in a giant mug though most of the other drinks are about the size you'd expect. The drinks and even the food took an exceptionally long time to come to the table (we ordered at the counter and she brought them over to us) despite the fact that all I ordered was a pie that was already made from the case and it wasn't delivered at the same time as the other cake but thankfully, we had time to burn. The waitresses in this cafe are not particularly great but I've met the owner a few times and he is a treasure of a human and the good food and exceptionally reasonable prices make up for a little bit of roughness around the edges.

Overall this isn't exactly going to be the first place I suggest someone get dessert but if you're looking for good food at a good price in a comfortable environment it's hard to get better than Grenka. If I were going to get dessert here again I'd probably go for a berry pie and I might take it to go and find somewhere sunny to enjoy it instead.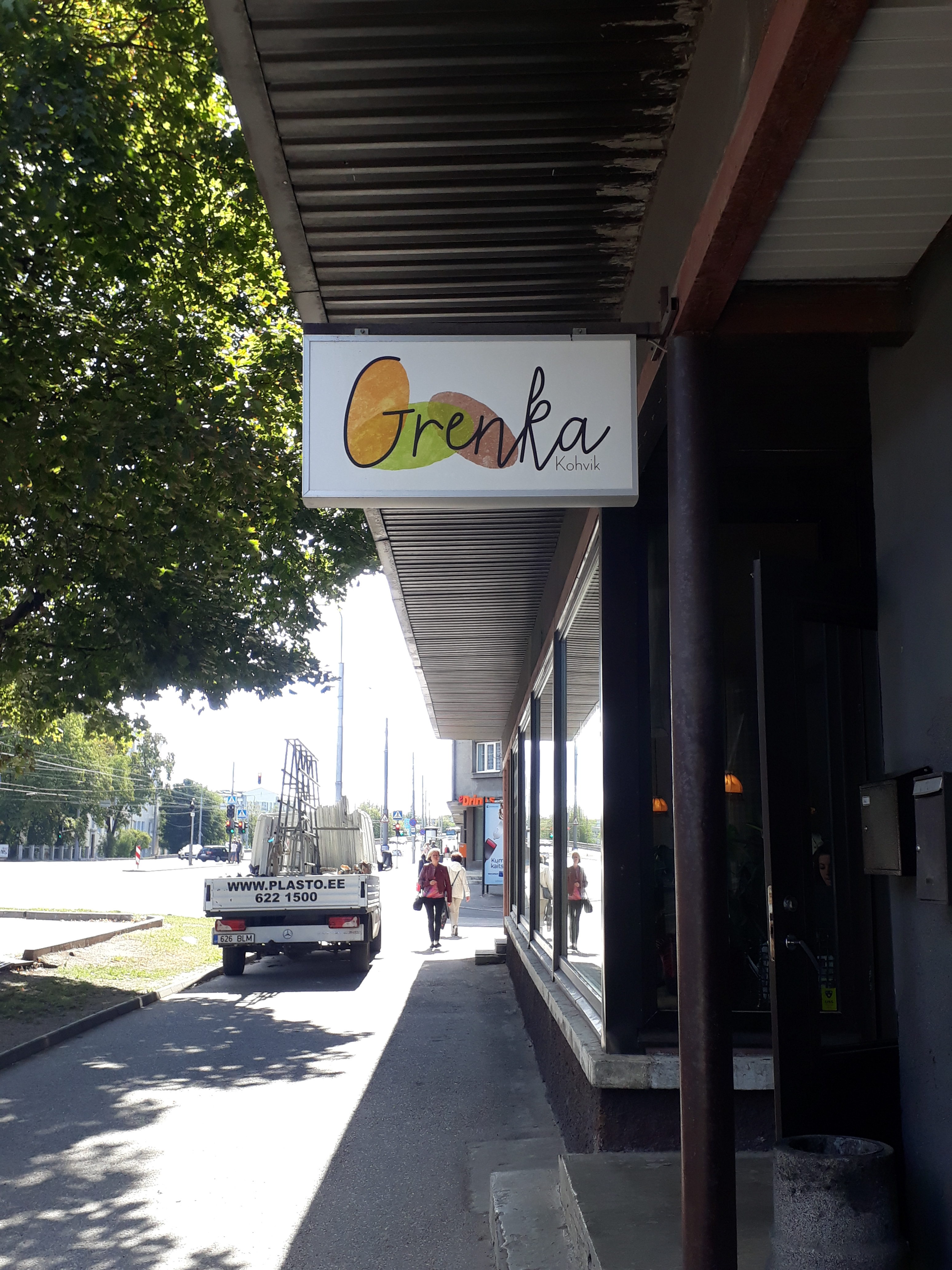 Ratings:
Coffee:




out of 5
Cake:



out of 5