Welcome back to my project of slowly reviewing all the coffee and cakes in Tallinn with my friend Kid, this week: cake in unlikely places!
Address: Müürivahe Tänav 2 10146 Tallinn
Date of visit: January 22, 2020
Drinks: Cappuccino (Kid) and Latte (Mab)
Cakes: Poppy Seed Cake (Kid) and Strawberry Roll (Mab)
Review: I promise we'll get back to going to actual cafes that are only cafes eventually (a list exists) but we ended up at this pizza place and they had an entire carousel of cakes and life is short, you know? Cake where you can.
La Prima Pizza is located on a street just off Vabaduse väljak. You can get there by walking about 60 seconds from any number of trams, trolleys, or buses. It's hard to miss because it's right on the corner of St. Nicholas' Church.
This isn't just your ordinary pizza place it's actually quite cozy and they have pizza, other Italian fare, gelato, desserts, and drinks for any time of day that you need a meal or snack.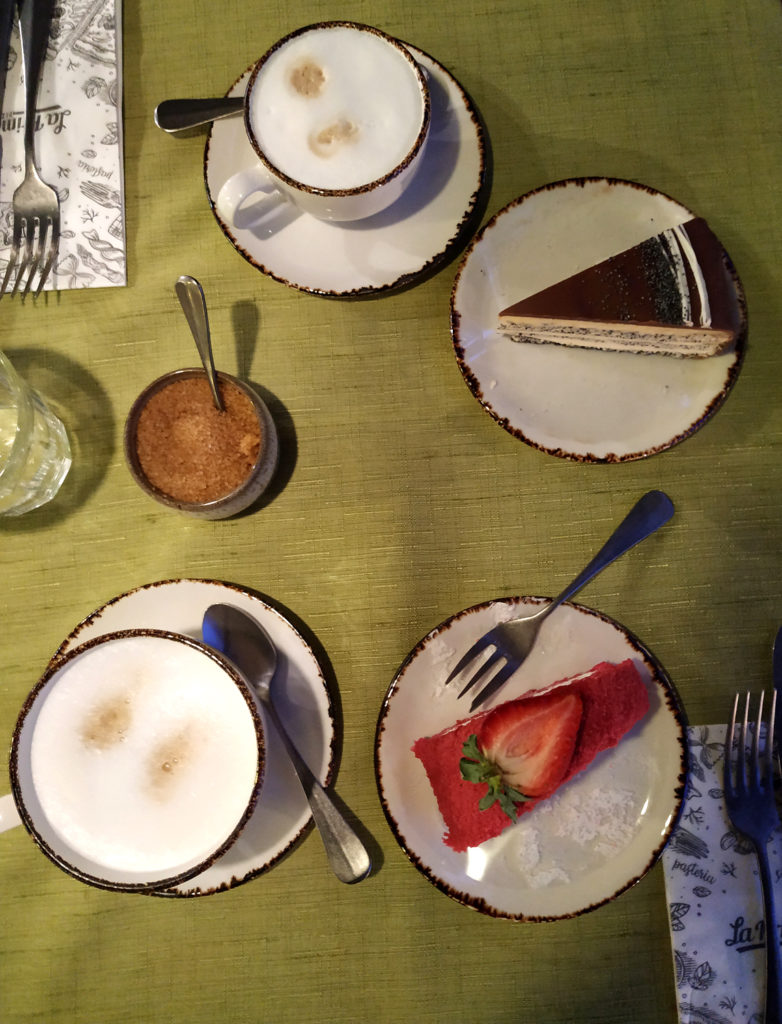 The inside of the restaurant is really stylish and they have a real lemon tree around a large circular table which would be really fun to sit around if you were having a big meetup. Other than that things are casual but pleasant looking and it doesn't look quite as sad or stuffy as many of the tourist filled places on the street. Not only do they have quite a large selection of pizza but they also had probably about a dozen types of desserts which is pretty unusual for something this isn't specifically a cafe.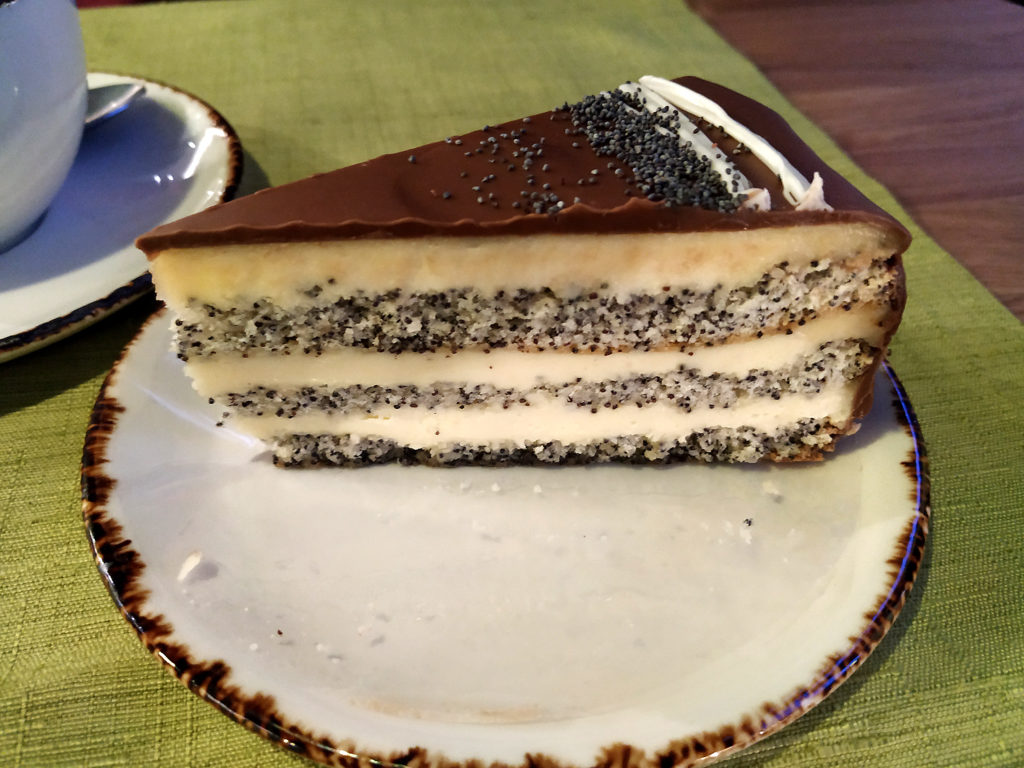 Kid had this cake which is basically a mash up between a poppy seed sponge cake and a cheesecake. Probably the best part about this cake is how striking it looks. I honestly think it looks like a very strange variant of a Boston creme pie but apparently it was just very heavy and too creamy. Like most of the cakes it was a pretty generous slice and dense so probably not the kind of thing you can eat right after a pizza.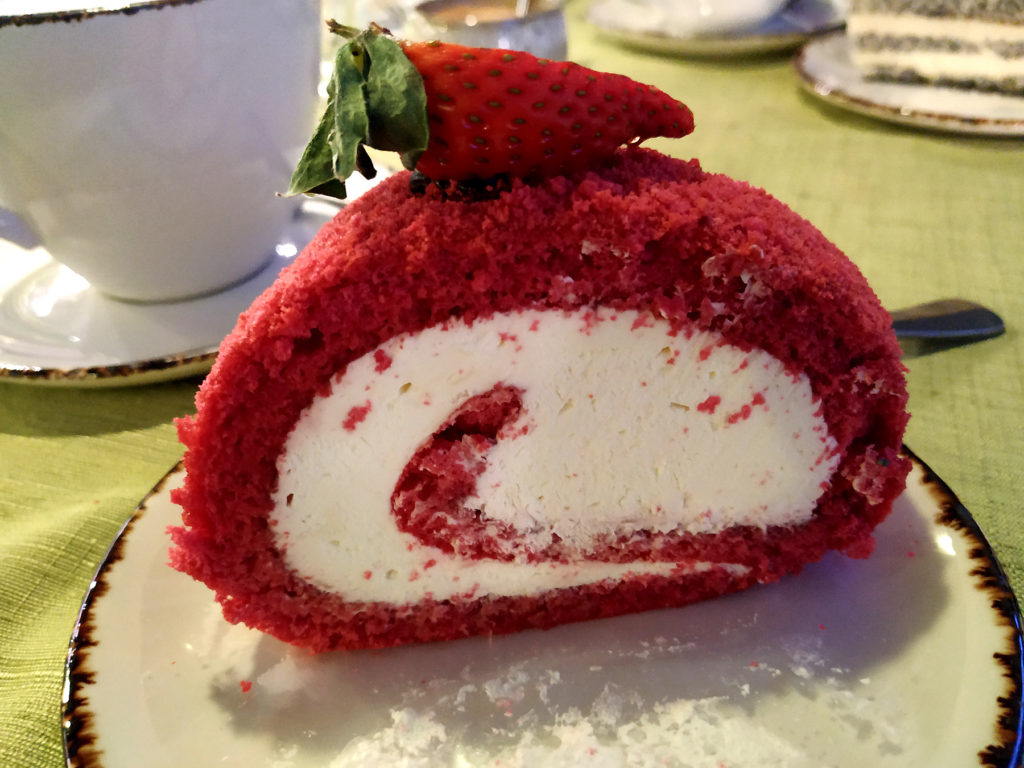 I went for the cake with the highest cream:cake ratio as per usual. This strawberry roll is a pretty classic looking cake. The strawberry on top was secured with a small dollop of sugar syrup which was a really cute touch. However, there wasn't a ton of flavor in this cake. While it looks visually stunning and the red color is quite striking I would have liked for it to have had a strawberry flavor or maybe some strawberries pieces in the cream instead it was more like a colored plain sponge cake filled with sugared whipped cream. Nothing too shockingly bad, but nothing that makes you want another slice either. I feel like I might have to create my own strawberry roll at home just to do this idea justice.
The service was very attentive but despite the mostly empty cafe this was one of the few places we've ever been where I felt like we were being slightly to moderately rushed. I understand that we were just eating cake in a restaurant but there were a dozen empty tables so I can't understand why the waitresses found it important to hover near us.
Also the coffee was very strong and very bitter. I was super grateful that they already had the sugar out on the table. I don't usually put any sugar in my latte but a good teaspoon full really helped the coffee go down. I know that strong coffee and/or bitter coffee is a thing that some people really like so while it's not exactly to my taste, since you can't get that everywhere it's worth noting I think.
I would come back and try the pizza since it looked really good coming out of the kitchen but the cake was extremely mediocre and the coffee wasn't served quite to my personal taste. I think I'd also come back and have gelato in the summer so it's something to keep in mind since I am always looking for nice places to sit and have a gelato but if you're looking for cake, there's probably better options around the corner.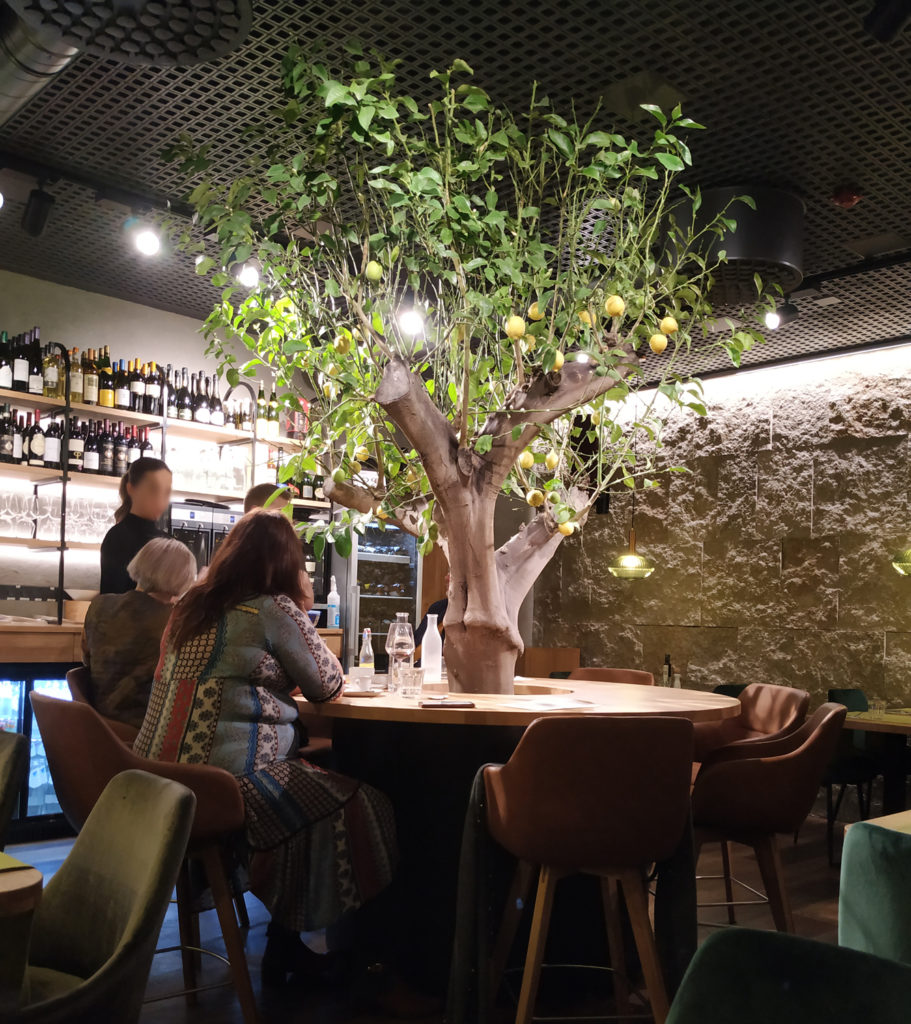 Ratings:
Coffee:



out of 5
Cake:



out of 5
This weeks pictures are mine 😀