Welcome back to my project of slowly reviewing all the coffee and cakes in Tallinn with my friend Kid, this week I explore the humble beginnings of this project and evaluate my own cake (!!).
Address: Kid's House (an undisclosed secret bunker in Tallinn)
Date of visit: April 26, 2018
Drinks: Milk Tea (Zanna and Mab), Water (Kid)
Cakes: Layered Lemon Cake + Piroshiki (Cabbage, Meat and Onions)
Review: So recently Kid invited Zanna and I over to her house instead of going out since her kitchen is being renovated and she couldn't leave the house. We didn't want to cancel our weekly friend-date which is very cute. In addition to hot drinks provided by Kid, I baked a cake and and I also made two flavors of piroshki because I'm an overachiever and a crowd pleaser all rolled in to one.
At first I wasn't going to blog about it but it's been just about 6 months since I started this series of eating cake and having coffee in shops with my friend Kid and I thought this was a good time to reflect on this experiment/experience. Like almost all the best things in my life, coffee, cake, and Kid was all a happy accident. Despite the look from the outside, an excuse to eat cake and do friendship building backsliding in to helping me find the confidence to blog semi-regularly again is not actually what I intended to do on a rainy day in Telliskivi.
When all is said and done, 14 cafes later, I'm consistently baffled by how much other people like to read about me eating cake. Even more confusing is how much I look forward to eating that cake and documenting that experience for people to read about.
I thought it said a lot about the power of cake and food but maybe it says more about community and humanity.
Let's pause and talk about the cake for a little bit though. I made your standard white cake and layered lemon curd in the middle then topped it with a soft lemon cream cheese frosting "decorated" with lemon peel. The cake was a little drier than I had wanted but it was soft and delicious. We all agreed it had a deliciously fresh flavor. It also wasn't too sweet. I'm pretty sure I over baked the cake by about 3 minutes but otherwise it was pretty good (recipe forthcoming on my food blog). It reminded me of a Sara Lee pound cake for some reason. In a good way.
I wish I had a piping bag to make the top nicer but rustic cake is still good cake.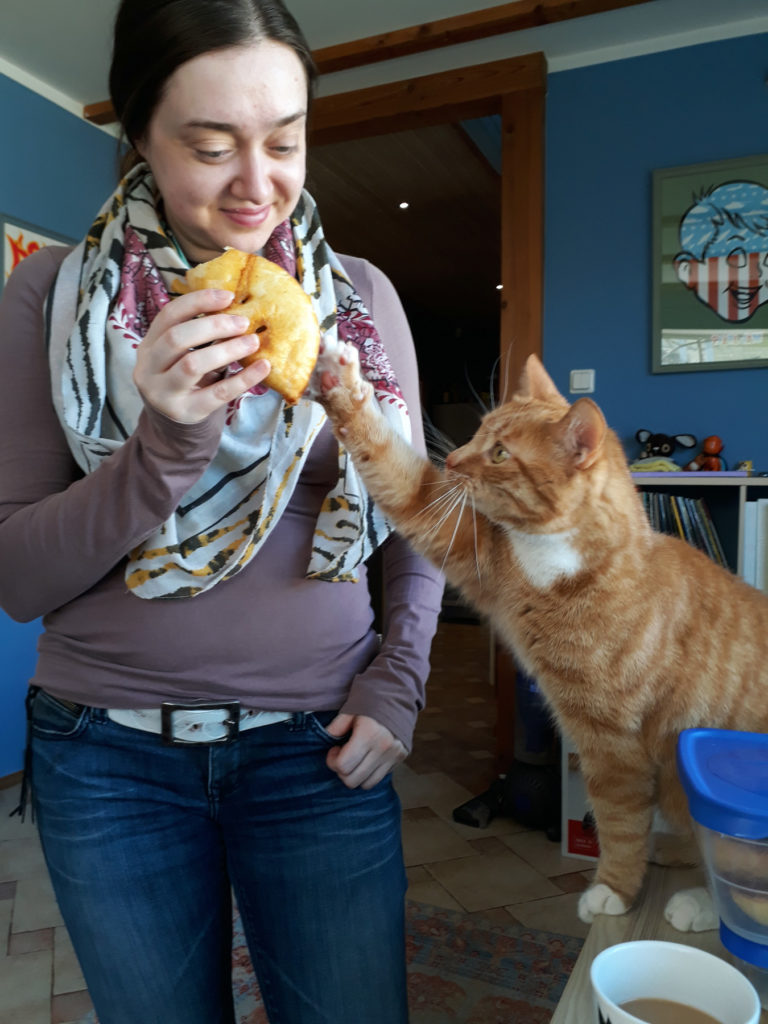 Pooky really wants to steal Zanna's piroshki
So about the nature of humanity…
When I dig in to the idea of it all, it's natural that people like food. For humans, food is a necessary life sustaining activity as well as a daily experience. Sharing food is one of the first things we do in life, we're fed by our guardians and our communities and our friends. I don't have the science for this but my life experience has informed me that a meal shared nearly always tastes better than one taken alone.
The thing is though, we don't need cake. (I can argue that we don't need coffee either but there's plenty of merchandise and memes to argue against that). You don't need to take time out of your day to eat something that is pretty low in nutritional value. You don't need to go out of your way, to a cafe, to take an hour to site and chat let alone to obtain a coffee and a thing that does little to nourish you. But you can. It's one of life's greatest gifts to be able to spend time with someone, simply enjoying the moment. That is, for me, exactly what cake is about.
Kid trying to make Endo be polite about his begging for food
Cake is making time for someone outside of what is only needed to survive. Cake is making space in your life for someone else to fill. Cake is a simplified shorthand for the process of learning how to sit in silence with someone and have that silence feel as full and joyous as their voice. Not just doing what we need to do to keep ourselves functioning but going beyond that and doing the things that will make us feel fulfilled and meaningful.
That we could have more than what is just enough. That's what cake is to me.
Most of the menagerie/zoo of Kid's house
For me, writing it down is just part of my life. I've always kept a journal so it just seemed like a natural extension to share something warm and good in my life with the world. Again I start to suspect that like eating cake, maybe experiencing cake is best when shared?
I've bloviated enough on the topic but I wish everyone could come share some cake and coffee with me and experience the feeling of abundance and joy from taking a moment away from life that you don't need but can have.
Ratings:
Coffee:





out of 5
Cake:




out of 5


Company: Priceless