Welcome back to my project of slowly reviewing all the coffee and cakes in Tallinn with my friend Kid, this week: A vegan restaurant!
Address: Rüütli 11, 10130 Tallinn
Date of visit: June 13, 2019
Drinks: Coffee (Kid), Cafe Latte (Mab)
Cakes: Apple Pie (Kid) and Chocolate Cake (Mab)
Review: Okay, so this isn't exactly a cafe in the sense of cake an coffee cafe. Actually I think it's not a cafe at all and I questioned if I should count this at all but the world needs to know about good cakes and so, we're going to barrel right ahead full steam.
So small back story: Plant is a vegan restaurant and we actually went there for proper lunch and not to eat cake but the food was really good and they had quite a few non-standard vegan offerings for dessert that it felt silly NOT to have cake while there. Neither of us are vegans but I eat a mostly plant-based diet and this was a highly rated restaurant so it was worth a shot.
Plant is located in Old Town (I promise we will go somewhere not in old town next time!) and it's about two blocks away from Freedom Square / Vabaduse väljak. I would be here all day listing trams and buses that stopped there but suffice it to say it's very centrally located and the building is not easily missed once you make the turn off the main street onto Rüütli.
The inside of the resturant was really beautiful. The layout is split between two floors, we choose to sit on the top floor where everything had a very calm and collected feeling. The tables were a good distant apart and could be moved around into various configurations. The music was very quiet and it was piano and other instrument covers of 80's music which made us both smile a few times (Flock of Seagull's "I Ran" and Tears for Fears "Everybody Want to Rule the World" were particularly amusing as well as a very soulful rendition of Britney Spears "Toxic").
Their menu is actually quite large and varied for a vegan restaurant and they also have more than one dessert. The two previous vegan places I've been to often have only one or two desserts per day, this one has three regularly plus two or three cakes daily.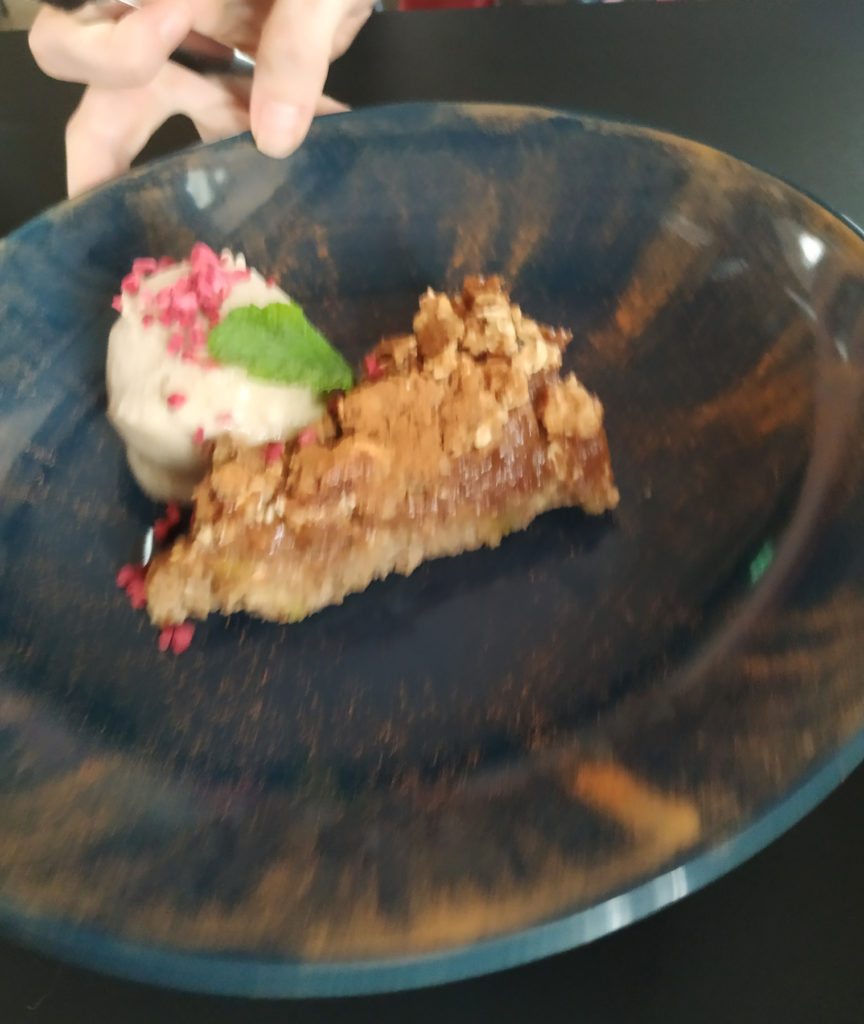 Kid was too eager to eat his pie so I didn't get a great picture of it but it was the raw vegan apple pie with salted caramel and banana ice cream. Considering that Kid actually licked the plate, I'd say this was a hit. This is one of the more convincing looking raw pies I've seen in my life, generally the textures on them are a little strange because they consist of soaked nuts and dates but there was a really thick "crust" layer on top which gave this a much better balance of layers. Also I know it's impossible to tell with the pie moving at 100 km/hr but it was also a very nice presentation.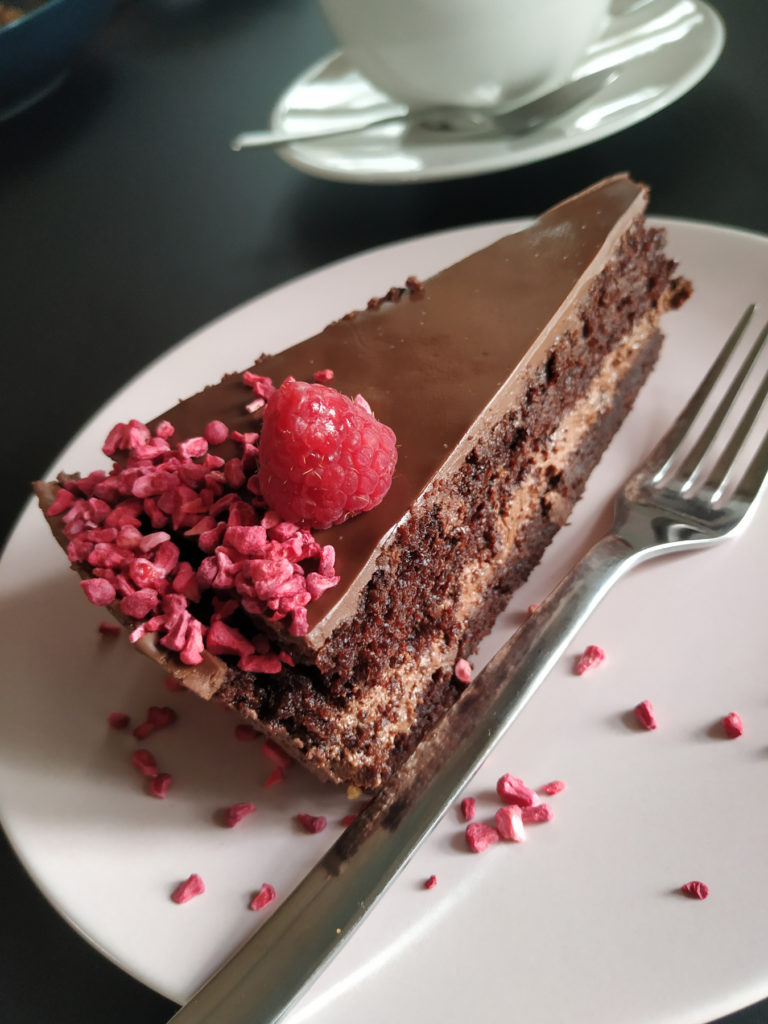 One of two special cakes for the day was the chocolate cake. I know she told me what the other cake was but I literally stopped listening after she said chocolate cake so I guess I'll have to go back again soon! Anyway this is one of the best chocolate cakes I've had in a long time. I think there were two factors in that: the coconut chocolate ganache layer was absolutely delicious and thicker but softer than regular ganache and also that this cake had lots of piece of dried raspberries inside giving it a soft crunch every few bites. It was the perfect level of rich chocolate cut with sweet, melt in your mouth coconut cream. I don't think I needed the small truckload of dried raspberry bits on top also but I am not complaining either.
The service in this cafe was really lovely and they were extremely well versed in the menu and ingredients which is a huge plus for a vegan restaurant. I also have to commend the fact that the smoothie Kid ordered came with a bamboo straw and the restaurant seems to do its best to reduce waste which I always appreciate.
Which brings me to the only problem, we also ordered lattes with our cakes and this was pretty much the worst latte I have ever had. When you order you get your choice of alternative "milks" which is all well and good but it turns out none of them really get the job done (at least not to my taste) in a milk-heavy drink. Not a real problem, either order tea or espresso instead but it was just a tiny hiccup in the experience.
Overall, I really liked our lunch here and would be willing to go back for appetizers, lunch, dinner, and maybe even a little more dessert.
Ratings:
Coffee:

out of 5
Cake:




out of 5
This weeks pictures are all mine 😀