This past weekend we went to the only cat cafe in Estonia, Nurri Kassikohvik, which just so happens to be just a 15 minute walk from our house. Below is a lot of pictures of cats and a short review of the cafe. If you're not a cat person, I would bail now.
First off, the cafe is very convenient to get to! The address is Tartu mnt 24. It's just one block away from the Paberi stop on the 4 tram, in a building across the street from the Stockmann (department store).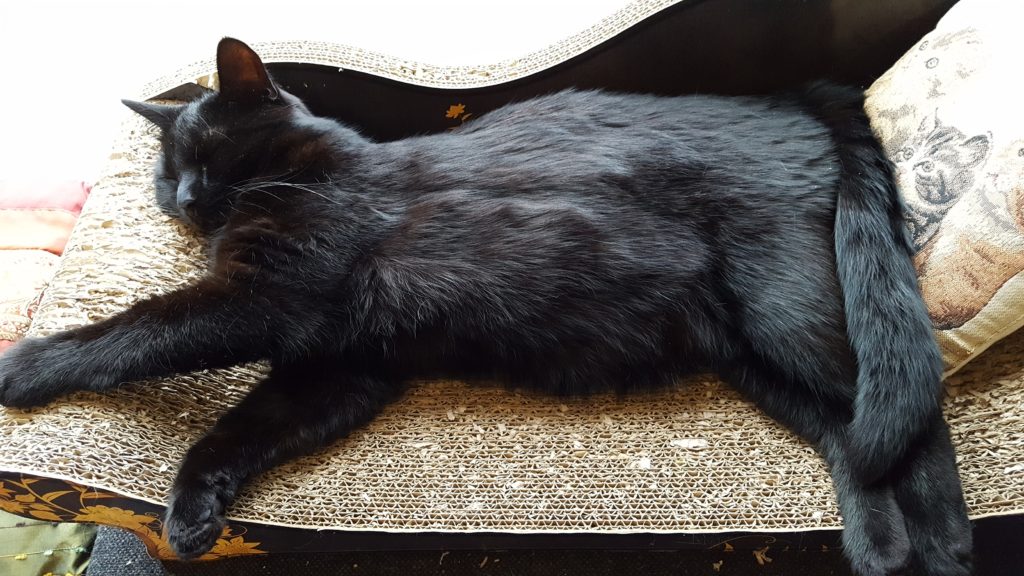 Space was mostly asleep the whole time while looking too damn comfy.
You will probably be able to sneak a peek at the cats from the window as there's plenty of cushions and cat beds where the cats congregate to sleep. When you reach the shop, you'll open the outside door and enter a small room, then you'll have to wait there for someone to open a special inner door to make sure the cats don't escape. The cats didn't even care about the comings and goings while we were there, but in a busy city, you can't be too careful.
How most of the cats were on arrival. This is Heracles, adorable and secret sleeping.

We arrived a bit before 1 pm and it was pretty empty in the cafe and the cats mostly were asleep (because they are cats). By the time we left, at 2:30 pm, the cafe was packed with people and all the cats were out and about reacting to the bustle of humans.
That black thing up there is a cat.
The cafe was built for the cats first and foremost. Nooks and crannies were built in to the walls, toys littered everywhere, climbing space, and even poles were wrapped with scratching post material. People who visit the cafe are asked to a sign a waver promising not to feed the cats, treat the cats well, and so on.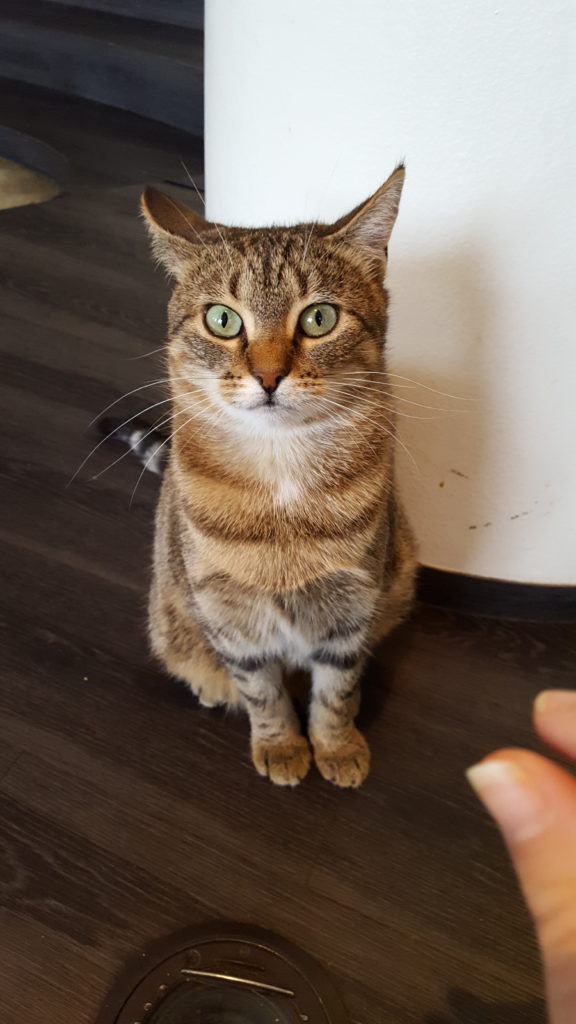 This cats name is Lovely. She did not, in fact, love me
In addition to whatever you buy in drinks and food (and even if you don't), you are charged a 5€ entrance fee per person (or 10€ per family with children) for use of the cafe which goes to the maintenance of the cats and helping when/if they get adopted by patrons of the shop.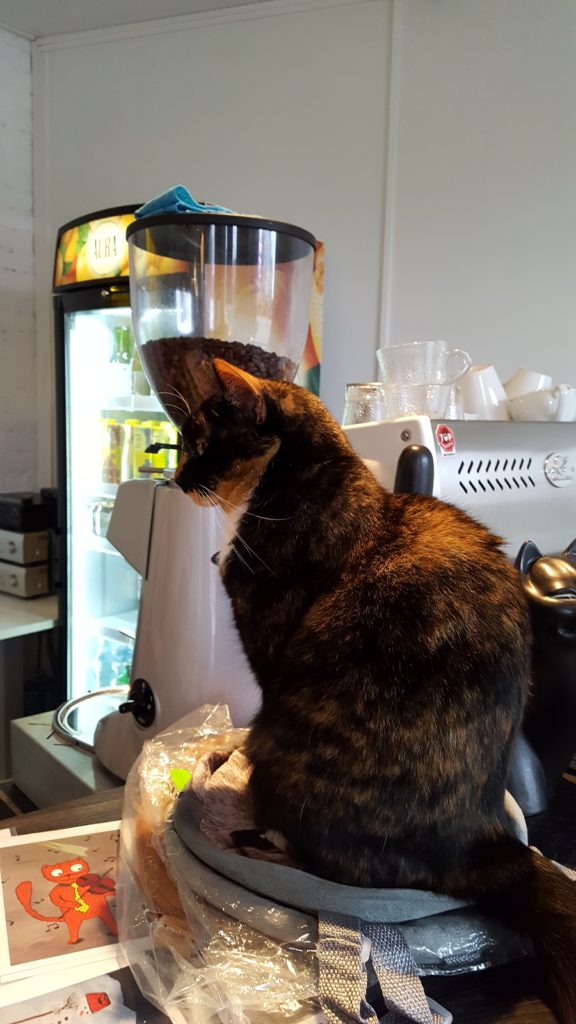 Alien wanted nothing more than to help make coffee, and desperately wanted to sit in the cash register.
Seeing as it is a cafe proper, they don't just offer cats but drinks and food as well. They have your basic coffee drinks, lots of confections, and a small menu of freshly made soups, salads, and entrees for very reasonable prices. They also offer cat themed mini pizzas and cat themed cake as well – mostly for the kids. About half the tables had under 16 year old children but the other half of the cafe was people aged 18 to about 65 so you probably won't feel too silly if you are not totting a child along.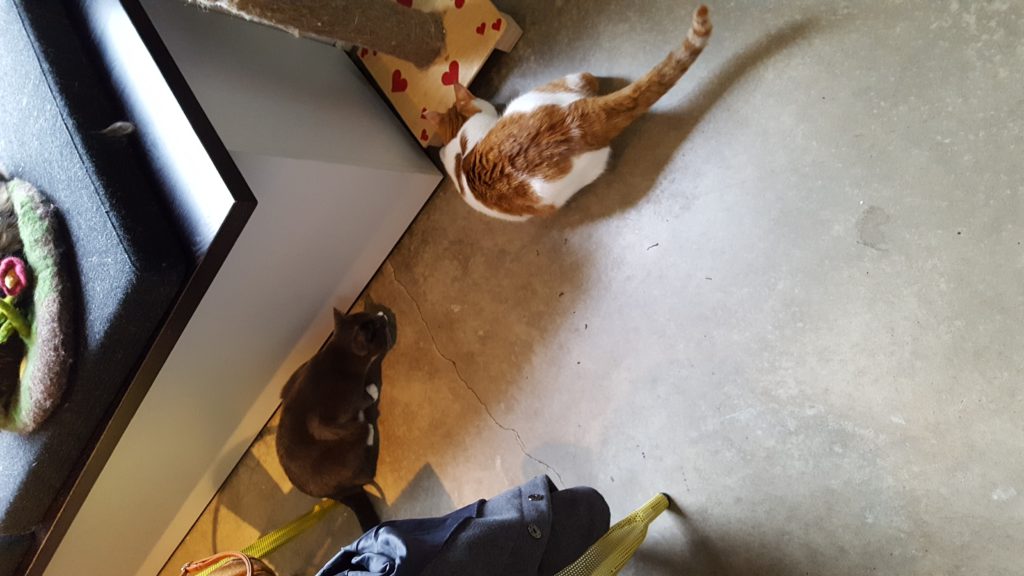 Heracles and Pummi, hunting a small toy. Which of course, isn't under that stand.

The menu comes in Estonian, Russian, and English and the staff is pleasant, very attentive, and speaks great English so tourists need not worry. I didn't take pictures of the food because I was so hungry but we ordered a chicken caesar salad and spaghetti bologneses and our usual latte (per moi) and cappuccino for Andrew. The entrance fees, food, and drinks came to 30€ which is pricier than a cafe, closer to a restaurant, but I found chasing around cats for 90 minutes to be totally worth the extra expense.
This is Lion, who is the softest of them all and let me pick her up for a minute.
While the food was delicious if not a bit heavy, the weird part was that the coffee was actually kind of sub par. It was probably one of the worst coffees I'd had in Tallinn (but not as bad as some coffees in Seattle!). It was not undrinkable though and it came quickly and with a smile, so I lived.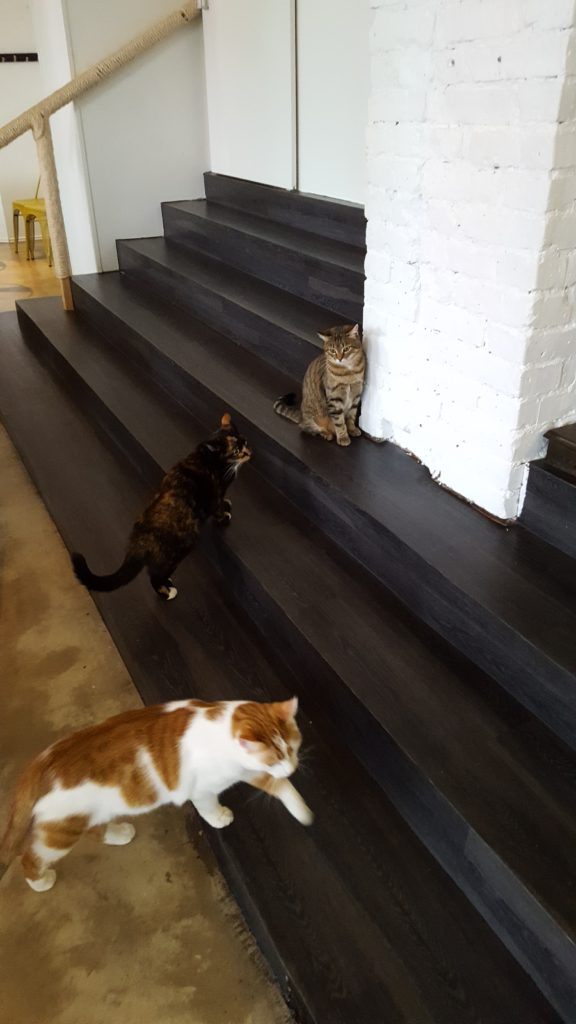 Like most places here, Nurri offers a special lunch buffet for 2-3 hours during the work week for 4,90€. Their buffet is a vegan buffet which is great news for vegans but also sort of funny because cats are obligate carnivores. In addition, during the buffet, the 5€ entrance fee is waived.
When we visited there were seven cats we saw, though an 8th lives there as well. The cats have the ability to come and go in to the "main room" with guests as they please so they never become too stressed. The cats were all pretty happy customers. They seemed to enjoy the attention and playfulness of the kids and the soft pets and coos from adults. They also liked to try and sneak in to the bathroom and kitchen with the guests and waiters.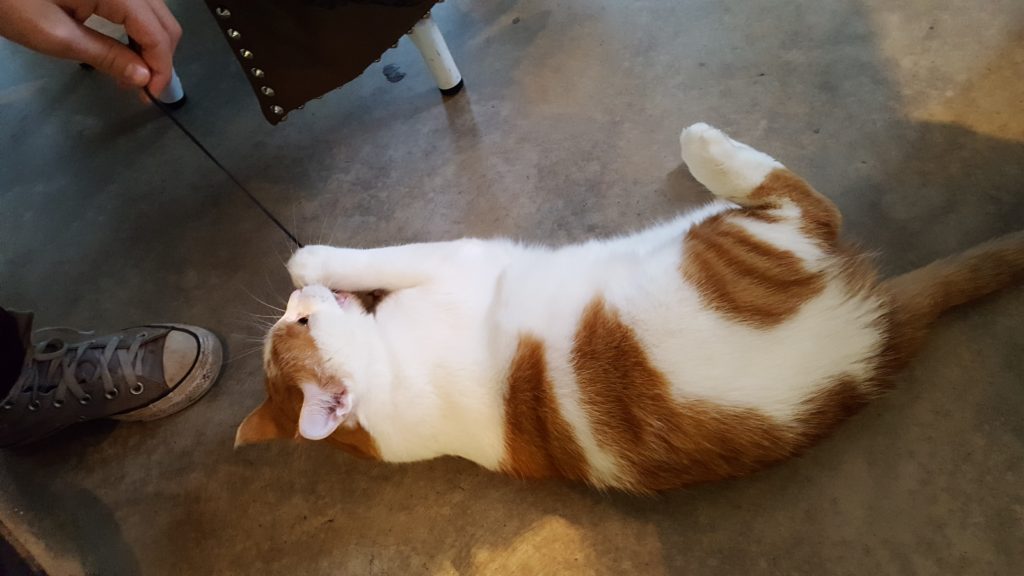 There were plenty of toys, so of course this cat is playing with someones coat zipper pull.
Out of the cats we saw, only Molly (pictured the header) didn't go anywhere. She laid in a basket on the counter the entire time but she enjoyed getting some head scratches from customers as they paid.
Also of note, all the cats are all up for and able to be adopted as the cafe doubles as a shelter. This also means that the cats you see here will likely not be there if you visit in a few months.
PS: The cats all seem to like each other.
It was a great experience and I might have to go to their buffet (and to give their coffee one more try) since the 5€/person entrance fee on top of ordering food or drinks is a little steep for an every weekend activity for me (especially when I have a cat at home I can bother for free). The owners are very kind and didn't kick us out or rush us after we finished our food. We spent almost 35 minutes after eating playing with cats and they didn't seem to mind and made the experience very relaxing knowing we weren't on a clock. (We would have left if they asked us of course but being able to freely enjoy the cats until we were ready to go instead of having a strict timer really helped me feel cozy).
All in all if you love hanging out with cats OR feel like your food experience could be improved with cats, Nurri Kassikohvik is for you!