Welcome back to my project of slowly reviewing all the coffee and cakes in Tallinn with my friend Kid, this week: books and treats!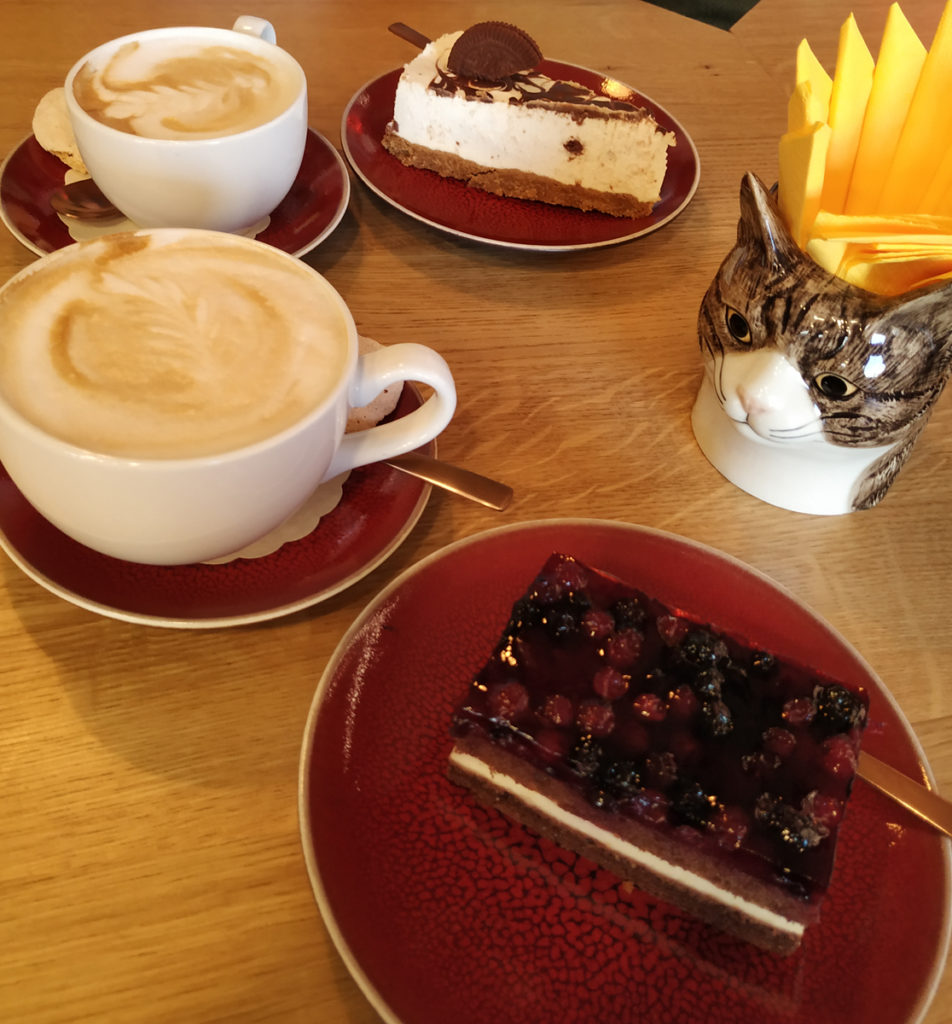 Address: Telliskivi 60/2 I-hoone, 10412 Tallinn
Date of visit: August 1, 2019
Drinks: Coffee (Kid), Cafe Latte (Mab)
Cakes: Domino Cheesecake (Kid) and Forest Fruit Bar Cake (Mab)
Review: Of course most bookstores these days have cafes inside of them but I still find the combination of books and sweets (or books and hot drinks) to be a perfect match. There are ten Rahva Raamat scattered around Estonia but this is the newest one and it's also the nicest I've been in so far.
This Rahva Raamat is located in Telliskivi in the most recently rennovated part (so recent that at the time of writing this its actively under construction across the street), Building I which is located between the main part of Telliskivi and the Baltijaama Turg. It's not difficult to reach as any bus, tram, or even train that goes to Baltijaam will deposit you within a few minutes walk to the building but its not exactly noticeable from the street either. Even if you're me, you'll be able to follow the (very helpful) signs on Building A and B which point you in the right direction.
I loved the inside of this cafe / restaurant combo because it has really large windows which let a lot of natural light in and make it feel halfway between a trendy coffee shop and a homey diner. Despite being a bookstore there was plenty of seating in many different configurations. This cafe is actually supposed to be a full blown restaurant so there's quite a lot of thing to choose from. There were a lot of breakfast options, tons of cakes, a really good selection of drinks and everyday foods but most of all, there were lots of savory pastries (which are my favorite).
The menu is a little pricey but some of that is just the location I'm sure. They do offer daily specials and some of the items are perfectly priced and in line with what you'd find anywhere else so it's not too outrageous. Also they have many vegan offerings both sweet and savory.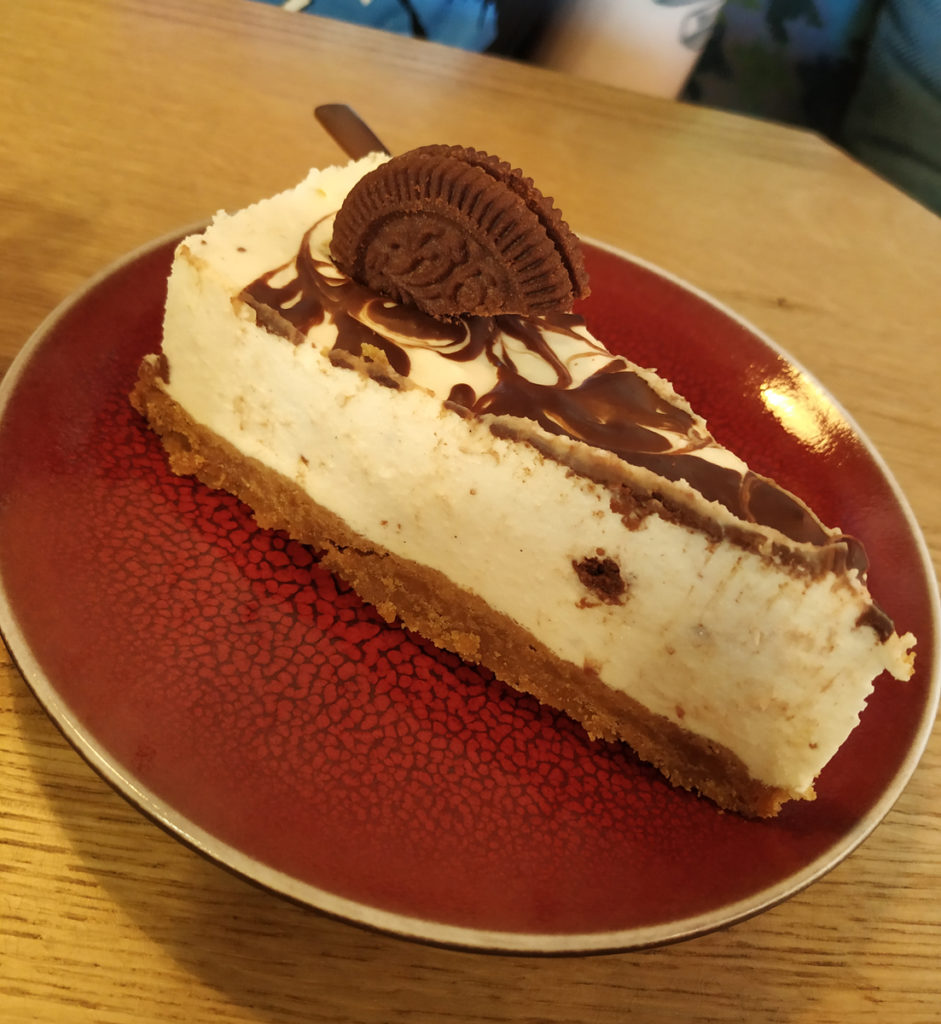 Kid got the Domino Cheesecake. As for its Domino-ness (or really how it compares to Oreo Cheesecake) I'd say this is on the weaker side of the equation. A mostly standard cheesecake that doesn't even have a domino cookie crust, which is a missed opportunity if anyone has ever seen one, this is a standard if very competent cheesecake. For a special item of the day you'd hope they put in a little more effort but honestly it's hard to complain when cheesecake itself is pretty good. Cheesecake: A-, Theme: C+
My cake was the Forest Fruit Bar because I was trying to steer myself away from eating a pile of cream (we're diversifying here at 'I post cake reviews no one reads as an excuse to eat more cake'). This was a really dense but satisfying bar cake. I didn't finish it because I'd eaten a big lunch before this but I really wanted to. I really liked the biscuit layers/thin sponge because unlike a lot of sponge cakes it actually had a flavor. This was a really nice blend of sweet cream, that hint of bitter and sour from the fruit layer, and the sweet and sugar cake. If pressed for a comparison, it was what I imagined an upscale version of a Little Debbie-style snack cake is like. The spongy texture might be a turn off to some people but I liked it and even though it had minimal cream, it was still a good cake.
Because it's a full service cafe they have some menu options for desserts as well and Kid ordered a ice cream parfait which came, as you can see, beautifully stacked full of fresh fruit and jam. This dessert reminds me of a wonderful meal I had about 20 years ago that ended with fruit and cream. While it's hard to say anything about ice cream that likely came from a tin and fruit, the presentation is top notch and the fact that they offer something elegant and simple like this is a really nice cherry on top for a lovely cafe.
The coffees we got were perfectly in line with the standard I'm used to even if we had a confusing amount of small sugar bowls on our table (three????). We ordered at the counter but the waitress kindly brought all our items out to the table for us and even came by to clear off the table when she noticed we were finished with our cakes so I'd say that's far better than average service.
I really loved the atmosphere in this cafe enough to justify coming back later and doling out a little extra for a cup of coffee just to sit near the big windows and read a book in their very comfortable chairs. I'd probably try a few more desserts because I liked but didn't love the ones we had but it's worth walking a few minutes to escape the bustle of Balti Jaama Turg.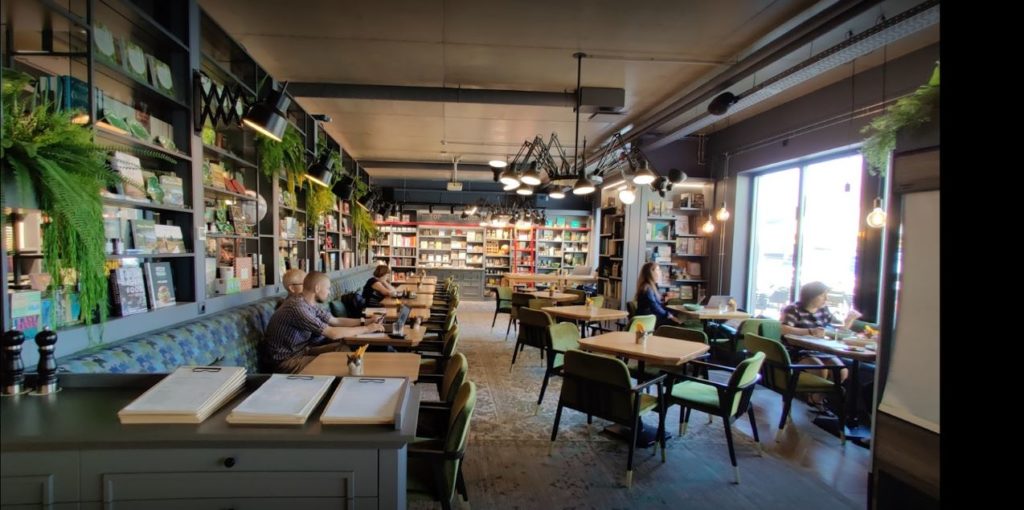 Ratings:
Coffee:



out of 5
Cake:



out of 5
This weeks pictures are mine and one from Google 😀