Welcome back to my project of slowly reviewing all the coffee and cakes in Tallinn with my friend Kid, this week: buns, buns, and more buns!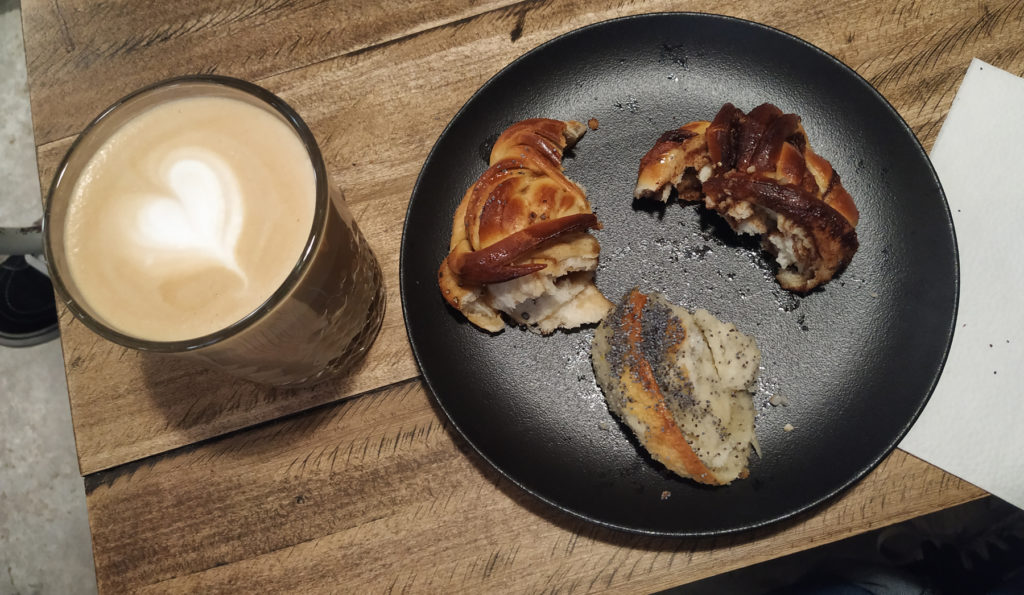 Address: Rotermanni 14 10111 Tallinn
Date of visit: Oct 3, 2019
Drinks: Cappuccino and Filter Coffee (Kid), Latte (Mab)
Cakes: Cinnamon Bun, Lemon and Poppy Seed Buns, Cardamom Buns
Review: Today's review is not quite a cake but I like to think it's close enough. ROST is more of a bakery with good coffee that specializes in cinnamon buns or really, what is more like individual kringel.
ROST is located in the Rotermann Quarter which is like a short jaunt from the Hobujaama bus and tram stops in the center of town so you can take a variety of buses and all four of the trams to the location. ROST is located down one of the small side alleys that make up the district but you'll probably be able to smell it before you see it.
It's quite cramped inside due to the nature of the building but there's many small tables inside and a long counter to sit at for individuals. I wouldn't suggest this place for parties of more than 4 at most, if you're meeting with one or two people though you should be pretty comfortable. This is a VERY BUSY location though so be prepared to possibly wait for a table or to take your snacks and drinks to go.
There are several types of buns, breads, and a handful of savory items but probably no more than 6 or 7 items for offer all together which doesn't make the choice any easier but for people who can't stand large menus this is ideal. Their buns, breads, and pastries are all seasonal so it's easy to find something that suits your mood or the weather.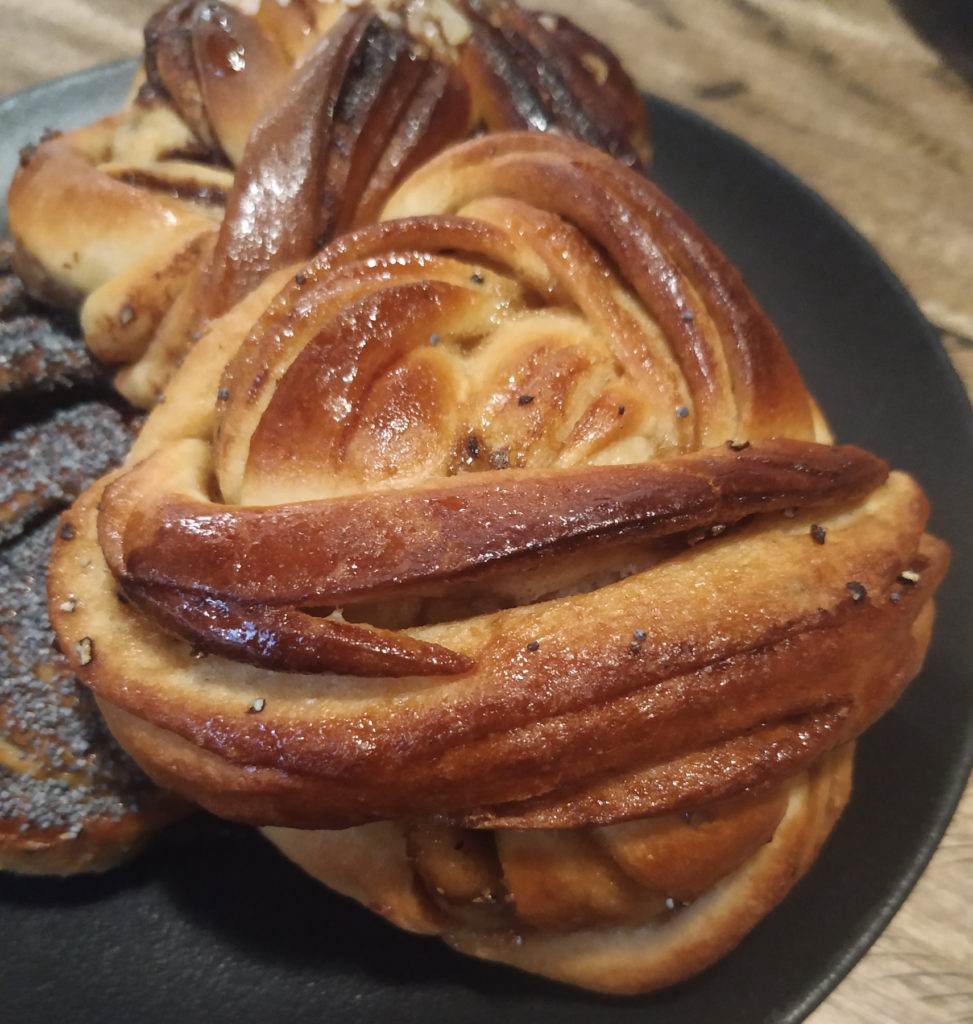 We opted to get all three flavors of buns that were available that day. First up is the Cinnamon Bun. This is a true classic, it's not too sweet and not too spiced either but it had really soft chew, closer to a croissant than most cinnamon buns that I'm used to. The glaze on top seemed to be a lacquer of sugar syrup which gave it a little texture (the top being nicely crunchy before you hit that sweet, soft bread-like inside). This was pretty good but I kind of felt like it was missing something. It wasn't that it was bland but I just wanted more.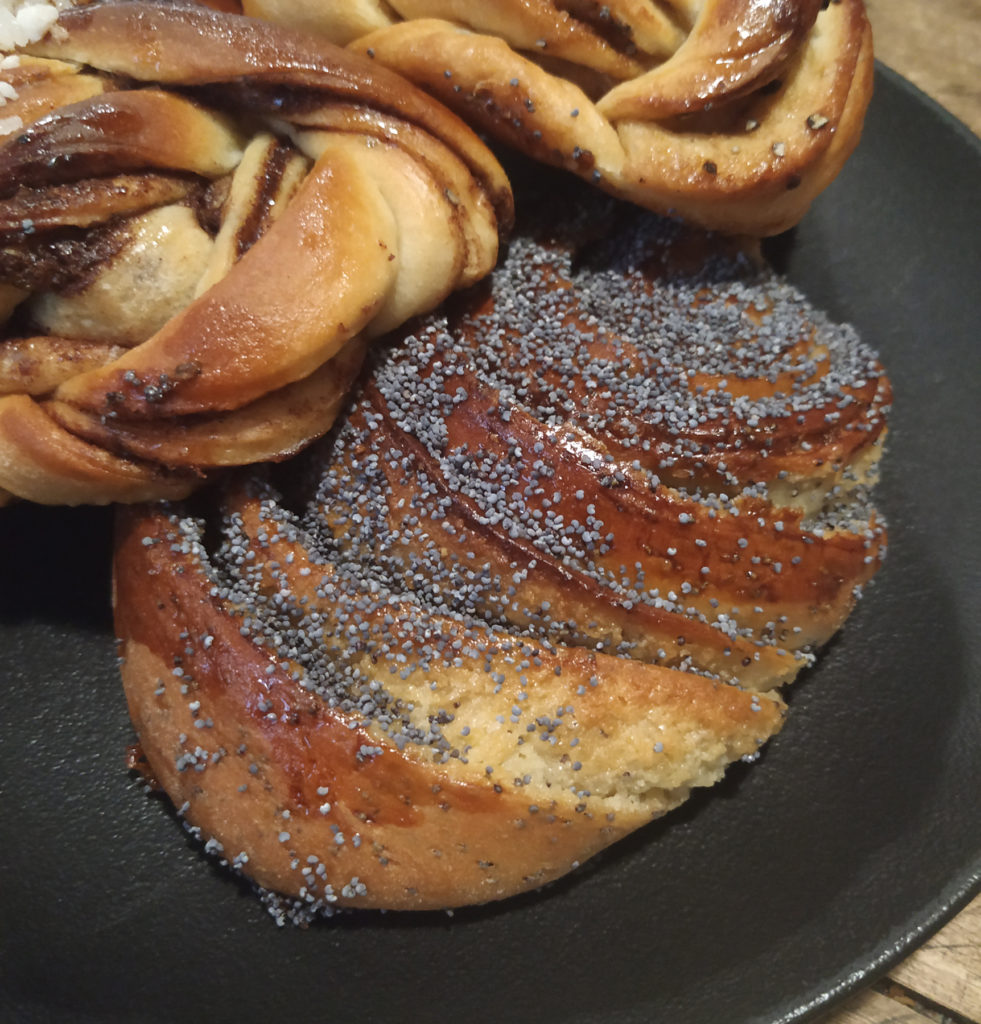 Next up was the Lemon and Poppyseed Bun. This bun was filled with lemon peel and possibly lemon curd because the lemon flavor was kind of out of this world. I really liked the taste of it but I ended up giving most of my half to Kid because unfortunately the lemon inside made the bun slightly wet and the texture ended up soggy and close to marzipan more than bread. If you can get past textural challenges the flavor and smell of this one was great and I'd probably be willing to order it again just to see if it was a fluke.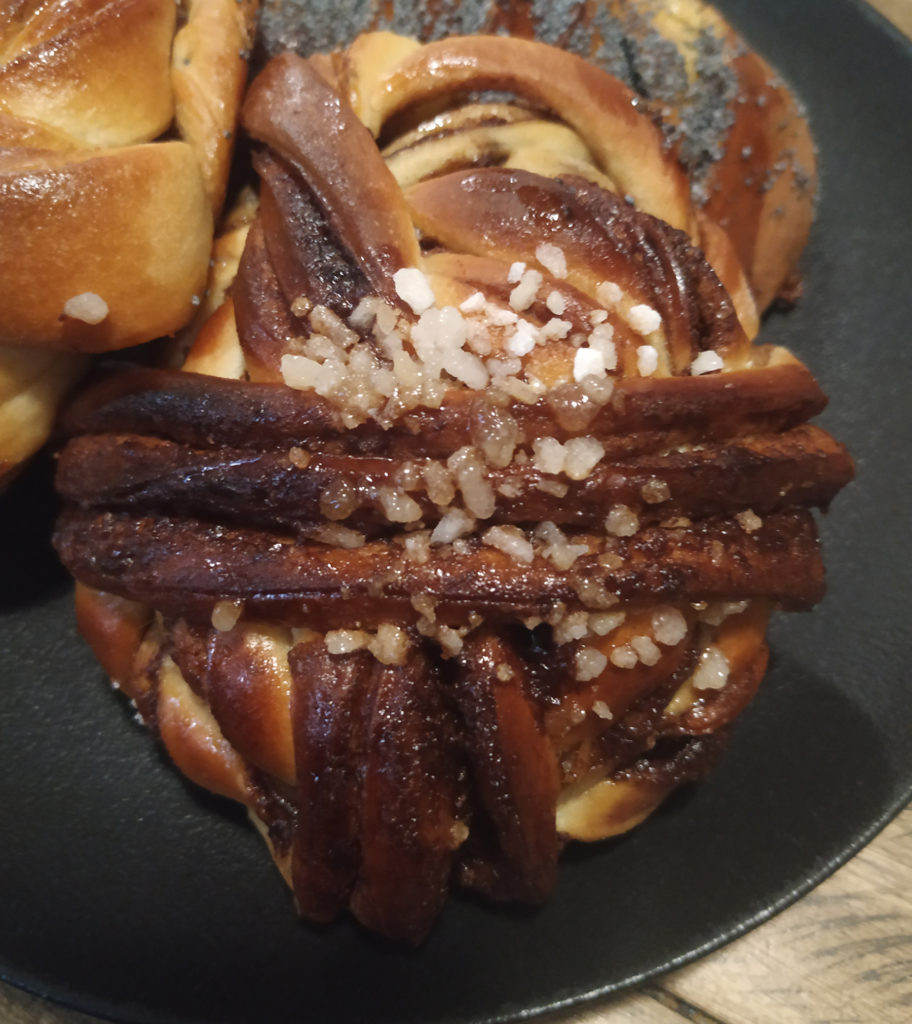 Lastly was the Cardamom Bun. If you know anything about me, you know that cardamom is my favorite spice. I keep three types of cardamom in my house at all times. I add it to savory and sweet things, it's just a good spice. You'll be absolutely shocked then to hear that this was my absolute favorite. I wanted to go back up and order another one practically right after eating it. This bun had the perfect texture aided by the sanding sugar sprinkled on top and just enough cardamom that each bite smelled perfect but not enough to taste flavor or overwhelming. This bun was more like the original with it's soft interior and crunchy top that I've come to expect from good pastry. Absolute thumbs up.
This cafe was super busy and it took about 10 minutes to make it up to the counter and then another 10 minutes to get our coffee so plan your visit accordingly. I will say, however, that the service was great. The staff is very friendly and answered all my questions and even brought our coffee to the table despite the crowd.
Kid didn't like the filtered version of the coffee (which includes free refills for anyone who buys a cup and doesn't dislike the taste) but I actually really enjoyed my latte and the cappuccino form seemed to agree more with Great. The coffee at this place is a different brand from any I've seen in any other cafes and it's always nice to get something novel. I'll have to come back for coffee with other people and see if they also rotate their coffee seasonally.
Despite the amount of people in this cafe I found it really warm and welcoming. I'd go back in a heartbeat and I'd be even more willing to get a few pastries to go. I'd be really interested in eating some of their bread as well (they make mostly sourdough it seemed, with about 30 loaves sitting on a table waiting to be sold). It's possible that we just caught them at a busy time but I suspect that due to the small size and delicious offerings this place likely sees a lot of business no matter the season. I'll certainly be back when they have their holiday bun offerings in December and maybe I'll update then.
Ratings:
Coffee:




out of 5
Cake:





out of 5
This weeks pictures are mine 😀